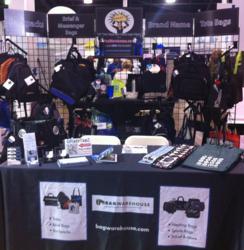 "the booth was swarming with new prospects, all asking about our conference bags, as well as other promotional items we produce."
Costa Mesa, CA (PRWEB) March 23, 2012
Bag Warehouse swept the audience by storm at OC's Largest Mixer on Wednesday evening with their great selection of conference bags. From start to finish, Bag Warehouse was the exhibitor name on attendee's lips.
Upon arrival at the Mixer, attendees were handed an eco-friendly conference tote bag packed full with offers and promos from exhibiting companies. The Tote Bags were produced and sponsored by Bag Warehouse, America's Conference, Event, and Promotional Bag Provider.
Once inside the building, attendees seemed to head straight for the Bag Warehouse booth. VP of Sales and Marketing, Alexandra Andersen, said that "the booth was swarming with new prospects, all asking about our conference bags, as well as other promotional items we produce."
The set-up at the Bag Warehouse booth was much like a retail store. Attendees could walk in and check out, touch, and test some of their most popular conference bags. They were also handing our insulated Grocery Tote Bags to promote their advocacy of the banning of plastic and paper, single use bags.
Attendees were also encouraged to drop their business card at the Bag Warehouse booth to be entered to win an OGIO Crunch Duffel Bag. "We had all walks of the business world visiting our booth, from business owners, to marketing gurus, to interns; but all came to check out our conference bags and to enter our giveaway," said Jessica Quillian, Account Executive at Bag Warehouse.
Bag Warehouse is also running a giveaway for all of 2012, where each month one lucky winner is awarded a Brand Name Bag of their choice from the BagWarehouse.com Web site. The easiest way to enter and learn more about the Bag Warehouse Brand Name Promotional Bag Giveaway is by "Liking" then on their Page on Facebook.
Bag Warehouse is a promotional bag wholesaler that sells directly to corporate buyers, groups, organization, conference or event planners and associations. Bag Warehouse is headquartered in Santa Ana California, and maintains production facilities for imprinted or embroidered promotional bags on the East and West coasts. Bag warehouse offers custom imprinted promotional bags in the following categories: tote bags, meeting bags, brief bags, travel bags, sports related bags, and brand name bags.
For more information about Bag Warehouse visit http://www.BagWarehouse.com, email Alex(at)bagwarehouse(dot)com, or call 1.800.817.2247.