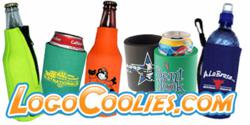 With your creativity, can coolies are sure to grab the attention of others at your next personal or business event.
(PRWEB) March 27, 2012
Spring has officially sprung, which means green grass, warmer weather and the promise that summer is just around the corner. There is nothing like starting off a new marketing campaign with products from Logo Coolies that celebrate the new season while promoting your brand.
Warmer weather means the start of backyard barbecues, fishing trips, little league games and taking a stroke or two off your golf game, all perfect events for customers to show off your company's logo on their newly received can coolie. Bottle koozies are a great way to create a springtime marketing buzz and can be used everywhere. This promotional product is the perfect cornerstone to almost every outdoor activity.
A custom designed can koozie is the most efficient and cost-effective summer promotional product. Your logo imprinted beer koozie will be shown off all spring and summer long, resulting in maximum exposure for your company and brand.
With winter drawing to a close, it is easy to think about those first few warm days of spring. There are many promotional products that can give your business the boost that it needs as the temperatures begin to climb. Most people look forward to the opportunity to get outside and enjoy the sunshine, so why not let them do so with a logo imprinted item from your business such as a can koozie?
About Logo Coolies -
Logo Coolies is part of a family of websites operated by JH Specialty, Inc and a child store of Your Promo People. Your Promo People is a full service promotional products broker, helping businesses and private individuals get a more economical price for promotional products. We realize the importance of working with our clients and giving them the customer service they deserve.
About JH Specialty, Inc -
JH Specialty, Inc. provides a practical solution to all your promotional needs. It is a full-service marketing communications company based in Fort Wayne, Indiana. Founded by John Henry III in 1998, the company specializes in the utilization of technology in social media marketing applications including, digital marketing, email marketing, search engine optimization, events and promotional products fulfillment, website design, and web development. JH Specialty provides marketing solutions for a variety of clients from Fortune 500 companies to Mom and Pop shops across the United States.