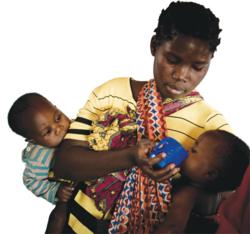 "PCI is proud to partner with Kirk Humanitarian to reach the Liberian people with these valuable vitamins," says George Guimaraes, CEO of PCI.
San Diego, CA (PRWEB) March 23, 2012
PCI (Project Concern International), in partnership with the Ministry of Health and Social Welfare is distributing vitamins to more than 50,000 pregnant women and children in Liberia. In October, 2011, 55,000 prenatal and childrens chewable vitamin tablets were received by the National Drug Service in Monrovia for onward distribution to the health clinics throughout the country. This goal of this project is to provide each Liberian woman and child with a one year supply of micro-nutrients.
This donation was provided by Kirk Humanitarian, a USA based charity whose mission is to provide micro-nutrient supplementation to women and children living in the hardest-to-reach countries in the world. Since its inception in the Fall of 2005, Kirk Humanitarian has distributed over 300,000,000 doses of multivitamins and minerals, mainly in North Korea and Burundi.
Today, Liberia is taking steps toward transition into a market-driven development that will secure its citizens with a prosperous future. Many people in Liberia are still coping with food shortages and limited access to health care, especially women and children. By providing essential vitamins for women and children, PCI and its partners hope to help support the population of Liberia with proper nutrients and instill healthy living habits.
PCI is partnering with ACDI-VOCA on the USAID-funded LAUNCH program that provides food rations to households in target communities with pregnant women and children under the age of two. It also assists farmers and supports primary schools in Bong and Nimba counties.
To learn more about PCI and its impact of global health and humanitarian work, please visit http://www.PCIglobal.org or please contact Annette Gregg, Senior Director of Marketing & Communications, at (858)279-9690.
Celebrating its 50th anniversary in 2011, PCI (Project Concern International) is an international health, development and humanitarian assistance organization, operating in 16 countries worldwide. PCI is dedicated to saving lives and building healthy communities around the globe, benefitting over 6.7 million people annually in Asia, Africa and the Americas. Funded by federal grants and private support, PCI's current annual budget is nearly $50 million and the organization has 600 employees worldwide. PCI's headquarters are located in San Diego, CA and also has an office in Washington, DC and a Seattle, WA representative.