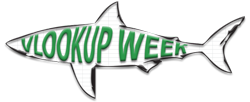 From beginners to experts, everyone can learn something during VLOOKUP Week.
Merritt Island, FL (PRWEB) March 26, 2012
Just like sharks have their own week with Discovery Channel's Shark Week, now the Excel function VLOOKUP has its own week: March 25-31, 2012.
Excel MVP Bill Jelen (also known as "MrExcel" ) has declared this week to be VLOOKUP Week. Excel gurus are invited to write VLOOKUP-themed posts on their websites during the week. On MrExcel.com, Jelen will offer VLOOKUP podcasts, ebook excerpts and drawings. Each day, every visitor to MrExcel.com will receive a digital chapter of one of Jelen's books, and visitors have the opportunity to enter to win physical books donated by Jelen and Pearson. The winners will be chosen using Excel's =RANDBETWEEN() function.
Other Excel experts including Mike Girvin, Rob Collie, Bob Umlas, Tom Urtis, Ken Puls, Colin Legg, Richard Schollar, Chris Smith and Charley Kyd will be providing VLOOKUP-related content throughout the week. Other resources and websites such as CFO Magazine, Microsoft Office Online, Pearson Education and CFO Excel Pro Newsletter will also contribute content. Posts from across the web will be curated into a special blog. CFO Magazine will offer a VLOOKUP Webcast on Thursday, March 29.
"My goal with the week is to get more people comfortable with VLOOKUP and to take those people who already know VLOOKUP to the next level," says Jelen, "For example, there will be articles on doing VLOOKUP Left or how to return the row with the *last* matching value. From beginners to experts, everyone can learn something during VLOOKUP Week."
Excel has 400 functions, including SUM, AVERAGE and COUNT, with one of the most powerful being VLOOKUP. Yet only 20% of Excel users have mastered the VLOOKUP function, even though it can reduce hours of manual searching down to minutes. Jelen aims to educate more users on this function.
To participate in VLOOKUP Week, as well as find logos for your blog, please visit the VLOOKUP Week information page. The first 30 participants to include posts for the special week will receive limited edition VLOOKUP Week coffee mugs.
About VLOOKUP Week
The first event of its kind, VLOOKUP Week 2012 is designed to encourage Excel bloggers and websites to contribute blog posts, podcasts and tips for Excel users on maximizing their use of the spreadsheet platform. For more information, please visit the official VLOOKUP Week site: http://vlookupweek.wordpress.com/excel-gurus/.
About MrExcel.com
MrExcel.com is an online community of Excel power users. The site provides solutions and tips for getting the most out of Excel, as well as offers consulting services for Microsoft Office products. The company is led by Bill Jelen, who "broke the code" in Excel, helping accountants and business professionals to do in a single click what used to take many hours. Jelen has saved companies millions of dollars with his programming solutions and self-help resources, including a book, his website, CDs, and message boards.