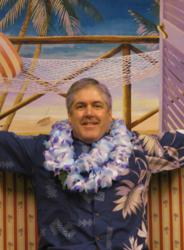 I am anticipating this being my biggest event of the year so far!
Greenwood Village, Colo. (PRWEB) March 26, 2012
Maui Wowi Hawaiian Coffees & Smoothies served up paradise in a cup to the crowds at the Lego KidsFest in Cincinnati, Ohio. The three day event, March 23-25, brought together kids of all ages to build, imagine, and play with the classic Lego blocks. Maui Wowi Franchisee, Keith Mitchell, was there blending up all-natural fresh fruit smoothies for attendees.
Prior to the event, Mitchell was preparing for a busy weekend. "I am anticipating this being my biggest event of the year so far!" said Mitchell. "We are expecting a turnout of about 30,000 people! There are five sessions throughout the three days and it is beginning to sell out!" And sell out it did! Both the Saturday and Sunday sessions were completely full, with no tickets available to purchase at the door.
Lego KidsFest was held at the Duke Energy Center and showcased the talents of builders, young and old. The layout offered a variety of fun experiences for visitors to choose from, including a Lego Museum, Master Builder workshops, activity areas, games, and a retail Lego store.
Mitchell was excited to offer the all-natural Maui Wowi products to guests and blended up smoothies from his mobile unit, called a Ka'anapli Cart. Like stacking Legos, Mitchell devised a unique way for visitors to create their own special drinks. "It's great because I have been offering customers the choice to combine their favorite flavors by layering them. They think that's a neat idea!" said Mitchell. His contract with the Duke Energy Center has allowed Mitchell to work nearly every event that is held there.
Families and fans poured into the Duke Energy Center and more will continue visiting other venues throughout the country during this multi-city national tour, with stops in cities like Denver, Austin, and Detroit. To find out more information about the event, please visit http://www.LEGOKidsFest.com.
Maui Wowi Hawaiian serves their fresh fruit smoothies and premium Hawaiian coffees at events, venues, kiosks, and fixed retail locations. Catering and fundraising opportunities are available and the company is currently franchising throughout the U.S. and internationally.
About Maui Wowi Hawaiian Coffees & Smoothies:
Before the days of big Hawaiian resort hotels and fiberglass surfboards, surfers spent long, lazy days partaking in the tasty waves of the North Shore beaches. As the legends of the surfers grew, many were drawn to the healthy, carefree lifestyle of Hawaii. Since 1982, Maui Wowi Hawaiian has been spreading the 'Aloha Spirit' across the world with its premium Hawaiian coffees, all-natural fresh fruit smoothies and authentic Hawaiian products. From event carts, mall kiosks and stand-alone retail locations, Maui Wowi Hawaiian operates 605 units worldwide. For more information about Maui Wowi Hawaiian's flexible, low cost franchising opportunities, visit http://www.mauiwowifranchise.com.