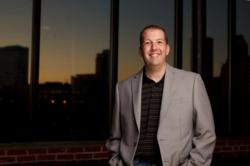 This book is loaded with practical ideas and strategies to rapidly increase your sales and profitability.
Tulsa, OK (PRWEB) March 28, 2012
Starting a business is easy—winning the game of business is not and, unfortunately, most start-ups fail. Nathan R. Mitchell's Give Me the Ball! Winning the Game of Entrepreneurship, endorsed by world-renowned author and trainer Brian Tracy, helps new business owners defy the odds and overcome obstacles along the way. Through practical advice and an approach honed through years of experience in the business world, both in Mitchell's own career and those of the entrepreneurs from whom he has sought advice, this book serves to enrich the lives and businesses of his readers.
While most people would assume that the current economic conditions would be a deterrent to starting a business, nothing could be further from the truth. Today's environment for entrepreneurship is rich and vibrant; more people are starting businesses than ever before, either out of necessity or the realization that job security is not what it once was. Mitchell synthesizes his experience as a Business Consultant, Speaker, and Operations Manager with a Fortune 50 company, as well as his passion for business and entrepreneurship, to provide new and potential business owners with invaluable advice. Mitchell offers readers a helping hand, sharing information that will help them to procure success, passed along from the successful entrepreneurs of today to the successful entrepreneurs of tomorrow.
Give Me the Ball! is a non-academic, practical approach to all those who know that they are destined for more—helping them to navigate their way through the world of entrepreneurship in an approachable and applicable manner. For readers who are anxious for more guidance from Mitchell, he offers a FREE subscription to his weekly e-mail newsletter, The Winning Mindset, which is available on his company website at ClutchConsulting.net.
Mitchell's passion is infectious, leaving business-owners as inspired as they are informed. Readers will eagerly await his future business guidance, and desire more of his no-nonsense approach to Entrepreneurship.
Learn how you can get a free copy of Mitchell's book by visiting http://www.bestbizcoaching.info
He is available for media interviews, business consulting, and professional speaking engagements.
Contact:
Nathan R Mitchell (MBA, CPC)
C/o Clutch Consulting LLC
info(at)ClutchConsulting(dot)net
918.851.7246