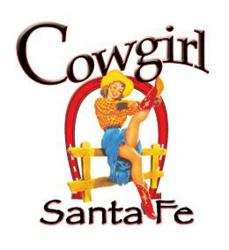 Santa Fe, New Mexico (PRWEB) March 24, 2012
Beginning at1 p.m. on Saturday, Mar. 2, Cowgirl BBQ, a featured company in both the SantaFe.com Restaurant Guide and Business Directory, brings their very own Bluegrass Jam back to Santa Fe for an afternoon of American bluegrass that lasts until 4 p.m. The featured artist for Saturday's music concert is Santa Fe favorite vocalist and upright bass player Cathy Faber. Cowgirl BBQ's hope for the afternoon is to create a friendly, easy going environment where players of any level can come together to jam, interact and trade musical experience and expertise. Mostly known for being part of Bill Hearne's Roadhouse Revue and Trio for three and a half years, Faber's roots are from folk and bluegrass and she loves the connections and the fun that come from being part of a down home, old-fashioned jam session.
The music at Cowgirl BBQ starts again at 8 p.m. on Saturday with the heart thumping riffs of Felix y Los Gatos. This band is truly a New Mexico original, blending outlaw country, zydeco, New Mexican rancheras and jazz swing music together that is mind blowing and danceable all at the same time. Cowgirl BBQ had the foresight to give this group a chance two years ago and the end result was Santa Fe taking them in as their very own. Since then, the band has played more than 500 gigs all over the Southwest. Bringing a new CD "Zydeco Tonight" to the music scene recently shows that the band is really coming into its own. Locally, they have played live on both KSFR 90.7 and KBAC 98.1 fm and they are being played in the daily rotation on KANW 89.1 fm. This summer, the band has pending live gigs in Telluride Colo, Austin TX and San Diego CA.
About SantaFe.com
SantaFe.com provides locals and visitors to Santa Fe alike the most current interactive platform for events, music, arts, business, dining and lifestyle. SantaFe.com is a division of Hutton Broadcasting, located at 2502 C. Camino Entrada, Santa Fe, NM 87507
Contact Information:
Scott Hutton
SantaFe.com / Hutton Broadcasting
http://www.santafe.com
(505) 471-1067 (Media inquiries only, please)
About Cowgirl BBQ
Since 1993 the Cowgirl BBQ, which now occupies almost the entire block where it started, includes a restaurant, a billiard parlor, a commercial catering kitchen and several private party rooms. The patio is one of the most inviting summertime venues for locals and tourists alike and the Cowgirl has become a local institution.
Contact Information:
Barry Secular
Cowgirl BBQ
319 S. Guadalupe St.
Santa Fe, NM 87501
(505) 982-2565