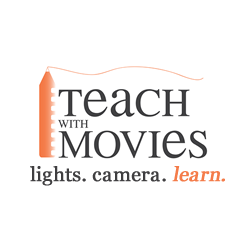 This initiative will help teachers make their lessons relevant to the lives of their students. It's a win-win situation.
Santa Monica, CA (PRWEB) March 26, 2012
"Movie worksheets" for lesson plans based on television shows are the latest curriculum innovation offered by the educational resource provider, TeachWithMovies.com. (TWM). "TV Program Worksheets for Homework" features six separate worksheets, including:
1) Fiction -- soaps, dramas, and reality/survival shows;
2) Reality Show Competitions -- good reality shows are structured like any other story;
3) Historical Fiction -- when most students become adults they will learn history through historical fiction in books, in movies or on TV;
4) Informational Documentaries – nature shows, science shows, history shows;
5) Documentaries Designed to Persuade on a Matter of Political or Social Significance; and
6) News and Current Events Programming.
Recent surveys show that teenagers watch, on average, four hours of television per day. Lesson plans based on TV programming are an opportunity for assignments in which students will analyze something that they often do at home and express their conclusions in writing. TWM's "TV Program Worksheets for Homework" allow teachers to capitalize on their students' interest in watching television.
TeachWithMovies.com co-founder James Frieden states, "Kids will be interested in completing these assignments. They will gain perspective about what they watch and they will also write. This initiative will help teachers make their lessons relevant to the lives of their students. It's a win-win situation. The TV program worksheets are the next step in TWM's mission to help teachers develop lesson plans involving the media that students love, i.e. stories and information presented on screens."
Modeled after TWM's successful and innovative movie worksheets, the TV Program Worksheets for Homework can serve as the centerpiece for lesson plans that make homework less of a chore and elicit strong efforts from most students.
While they will be useful to English Language Arts teachers, the worksheets can also be important time-savers for teachers in other classes. The 2010 Common Core State Standards require that teachers in history/social studies, science, and technical subjects join the effort to assist students in learning how to read, write, and listen. Assignments that use TWM's TV show worksheets for homework will help teachers fulfill these requirements.
Programming on television provides information on most subjects in the k-12 curriculum. There are many shows that are essentially documentary films on history, nature, society, and discoveries in science. There are also news and current events shows on television. In addition, there is programming about sports, a perennial favorite with kids, as well as reality competitions in dance, music, and cooking. The most popular TV programs, with varying degrees of quality, are watched by millions, including, students. Television programming is therefore a useful resource for writing and listening assignments for students in most classes.
TWM's "TV Program Worksheets for Homework" while providing valuable resources for English Language Arts instructors, will also assist teachers in other subjects in creating lesson plans through which they can fulfill the new responsibilities imposed by the Common Core State Standards. This can be done without taking up a lot of class time, already crowded with other lessons. In addition, the assignments will answer student complaints that school and its activities are far removed from their daily reality.
TeachWithMovies.com is the premier site on the Internet showing teachers how to use media shown on screens to enhance the educational process. The site offers thousands of pages of lesson plans and curriculum materials on more than 350 movies. The price for access to all TWM curriculum materials is $11.99 per year per teacher. Discounts are available for bulk purchases.