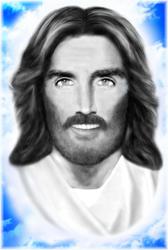 His face was kind and strong. His smile was incredibly warm and soothing. I have never felt such utter peace, joy, and love.
Los Angeles, California (PRWEB) March 26, 2012
This Easter season, a beautiful new portrait of a Smiling Christ is being unveiled by its artist, Ron Roy, who claims to have actually seen a vision of Jesus "in the light' during a near-death experience in his youth.
Ron Roy - a native Texan who originally sought "fame and fortune" by venturing to Hollywood in the 1970's - is now semi-retired from a successful and lucrative career as an actor, director, producer, writer, and composer.
Smiling Jesus Portrait At: http://www.JesusSmilesOnUs.com
"It all happened at the end of the 1960s during an era of tremendous turmoil," says Roy "The predominant thought at that time was "God is Dead"... and I wasn't sure if life was worth living anymore. I was terribly unhappy and seriously considered ending my life."
That's when Roy experienced a near-death "out-of-body" experience... and had a personal vision of Christ.
It was a beautiful, enlightening, and deeply powerful spiritual experience that forever changed his life.
A free download of the image is available at:
http://jesussmilesonus.com/FreeDownload.html
"At first, I didn't know what was happening to me. You have to remember, this was decades ago - long before people had ever spoken of such experiences!" exclaims Roy.
"I felt myself leaving my body and being pulled into a bright luminous mist of light. It was almost blinding. I was pulled deeper and deeper into the light to a point where I couldn't go on any further without actually 'passing over' … then I looked up and standing there to meet me was Jesus."
This came as quite a shock to Roy who, at the time, had "given up on God" and was principally agnostic in his beliefs.
"I've never quite been what you'd call the poster child of religion!" says Roy, laughing. "I was extremely wild and rebellious in my youth, and my entire adult career has been in the crazy Hollywood entertainment industry – not exactly the center of holiness!"
"But being in Christ's presence was the most beautiful feeling I've ever felt. He was the kindest, most loving, and most compassionate being I've ever experienced. His love, understanding, and complete acceptance of me was so powerful that it was almost overwhelming."
Asked what Jesus looked like, Roy explains: "His face was kind and strong. His smile was incredibly warm and soothing. He looked somewhat like the pictures of him I'd seen in Sunday school as a child - only much better! You see, everything 'in the light' was perfect and radiant - it all seemed to glow somehow."
"And yes, He was perfect... but also so friendly, understanding, and compassionate that just being in His presence put me completely as ease and filled me with an incredible sense of comfort." He exclaims, "I have never felt such utter peace, joy and love."
Roy has always wanted to share his vision with the world but, not being a trained artist, felt that was virtually impossible.
"Even though I can barely draw a straight line, I decided to give it a try on my own." he says
With a background in computer graphics, but never with portraits, Roy ventured forward to recreate his vision. It was one of the most challenging projects he's ever attempted – taking him over a year-and-a-half and hundreds of versions to achieve. Though frustrating at times, he says it was definitely worth it.
"It's truly an incredible and rewarding feeling when people tell me how good it makes them feel when they see the smile on Jesus' face … and how they want to share it with others," says Roy.
"Obviously, it's a very special and personal image to me... it's gotten me through some pretty rough times in my life" says Roy "It's my hope that this vision of Christ I'm now sharing can be used throughout the world to create a positive and loving impression of Jesus - one that people of all ages, races, and faiths can relate to - especially children."
ABOUT RON ROY / RON ROY PRODUCTIONS
Ron Roy is currently semi-retired from a life in the entertainment industry where he has had a successful career as an actor, producer, director, writer, and composer. He is the creator of the critically acclaimed Moodtapes™ Nature/Relaxation DVD/CD series (ten original presentations) and has produced and directed film, television, theater, documentaries, radio, commercials, and music videos. He produced, directed, and hosted the annual two hour comedy special "Stand Up Comics Take A Stand" which aired for four years nationally on "The Family Channel" and as an actor, Roy appeared on numerous network television series such as "Dallas," "Police Story", and "Black Sheep Squadron," as well as in dozens of national commercials. Theatrically, Roy is best known for originating the stage role of "Lieutenant Young" in the world premiere of Ray Bradbury's "The Martian Chronicles" at the Colony Theater in Los Angeles. The presentation won five Los Angeles Drama Critics Circle Awards including Best Ensemble Performance. As a music composer and producer, his soothing original instrumental CDs have charted "Top Twenty - Coast to Coast" and he has won multiple international video awards for his productions. He has also been featured as a celebrity guest on network television talk shows such as "Oprah", "The 700 Club", and "Entertainment Tonight".