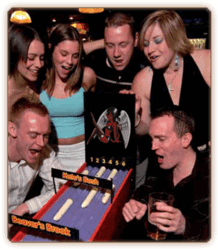 As a Californian condom manufacturer, we are keen to help other local and small businesses grow
San Francisco, CA (PRWEB) March 24, 2012
San Francisco's Tastee's Condoms, the original flavored condoms that are manufactured in California, is announcing its sponsorship of a local startup venture that is producing fun vibrator racing tracks.
"As a Californian condom manufacturer, we are keen to help other local and small businesses grow," David Ashforth of Tastee's Condoms said. "We want to support American trade, manufacturing and the community in which we are based."
Tastee's Condoms has sponsored local entrepreneur Raymond Tuzi by buying manufacturing equipment in order for him to launch his business and by helping Tuzi push his product to the market by offering it to distributors who already have a business relationship with Tastee's Condoms.
"Sponsoring Raymond's vibrator racing track business is a win-win, buying his manufacturing equipment and introducing him to our distributors will ensure his business is a success," Ashforth said.
These racing vibrators on racetracks will be amusing and cutting-edge entertainment for bachelorette and bachelor parties, nightclubs, bars, and college dorm parties. The Vibrator Racing Tracks are handcrafted in Northern California. Each is packaged separately and customers must self-assemble the track. No extra tools are needed, but a small screwdriver is supplied. Assembly takes about 5 to 10 minutes and the instructions are included in the package.
For more information about the Fun Vibrator Racing Tracks, view the product on the web at http://www.vibratorracingtrack.com.
For more information about any of Tastee's Condom's products, call 888-852-2833 or buy condoms on the web at http://tasteescondoms.com.
About Tastee's Condoms
Located in San Francisco, Tastee's Condoms is one of the best-selling condoms in the U.S. and is known to be the first creator of flavored condoms. The Tastee's Condoms brand was acquired in 2011 by a San Francisco adult novelty company with 12 years of experience in the industry. Tastee's Condoms is expanding its market and will soon be introducing a natural condom, a ribbed and studded condom, an Atomic Sour flavored condom and more.