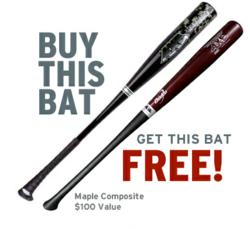 Baden Axe Bats are approved for use in all amateur, collegiate and professional baseball games in 2012
Washington (PRWEB) March 24, 2012
Baden® Sports, Inc. proudly announces the availability of the revolutionary new line of Axe™ baseball and softball bat line on badenball.com, the Official Baden Online Store. With a patented handle design that guides a player's hands into the proper hitting position at contact, the new Axe bats provide batters with more power and more solid contact, more often. The Axe bat is truly a game-changer, and it is approved for use in all amateur, collegiate and professional baseball games in 2012.
The new line of Axe baseball and softball bats feature a proprietary handle that has never before been used. Unlike traditional bat handles, the Axe handle fits flush in the bottom of a player's hand which increases leverage and promotes greater swing consistency and improved hitting performance.
"This is a revolutionary design that will have a lasting impact on the sports of baseball and softball," said Michael Schindler, CEO of Baden Sports. "What does the old handle do for you? The Axe bat promotes an ergonomically correct grip, better fit, less restrictive swing and greater bat speed through the hitting zone. As more and more players adopt this new design, the old handle may become irrelevant."
Because the new Axe bats promote proper technique and reduce the hand fatigue associated with traditional bat handles, they have been certified and approved for use at all levels of play in 2012, including Little League, high school, NCAA and the Pros. Axe bats are currently being used by professional players at this year's spring training and the company expects this to continue when the regular season begins in April.
A number of NCAA men's baseball programs have already discovered the benefits of the Baden Axe bat, and their players now use it exclusively. Exclusive Axe schools include Ashland University, Marietta College, North Georgia University, Ohio Dominican University, the University of California San Diego, and the University of Redlands.
There are eleven (11) models in the new line of Axe baseball and softball bats, each of which are offered in a variety of sizes and weights for all levels of play. Several of the bats are BBCOR .50 certified.
For professional players, the Pro Ash and Pro Maple Series Axe bats are manufactured in Wisconsin, using the hardest ash and maple grown in North America. All strictly adhere to professional league specifications, and are also oriented so that the wood grain is aligned perfectly with the hitting surface for maximum performance and less breakage.
Proprietary barrel designs are also featured across the entire line of alloy and composite Axe bats. They have been engineered specifically to maximize the advantages of the patented handle and one-sided hitting. In accordance with the rules of Little League, high school baseball and softball, adult softball leagues and the NCAA, these bats feature Plus-Plus™ Reinforced Composite Technology or LP Scandium Alloy to provide bigger sweet spots and maximum legal performance.
Gear up for Spring Training Sale is now in progress and offers include free shipping, and a buy one get one free BBCOR bat at badenball.com. Badenball.com is the Official Baden Sports Online Store.