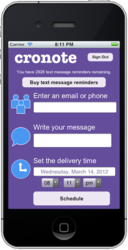 Cronote Reminders is unique: it sends reminders automatically to any email address or US cell phone number.
(PRWEB) March 24, 2012
The Cronote Reminders iPhone app is now available. The app provides a clean and efficient interface for scheduling email and text message reminders. Cronote Reminders is unique: it sends reminders automatically to any email address or US cell phone number. Traditional reminder apps do not send reminders to other people. They only function as local notifications. In addition, other text message reminder apps require the user to manually approve each message before it is sent.
The app's user interface was designed to minimize the time needed to schedule a reminder. Contacts are accessible via a single finger swipe, and reminders can be sent to multiple recipients at the same time. The iPhone app also allows users to create recipient groups, a useful feature for sending reminders to friends and family. Screenshots are available on iTunes at http://itunes.apple.com/us/app/cronote-reminders/id509124131?ls=1&mt=8.
Cronote charges five cents per text message reminder but does not charge for email reminders. New users receive ten free text message reminders. Additional text message reminders can be purchased in packs of twenty ($0.99), one hundred ($4.99), and two hundred ($9.99). All purchases can be made within the app through the In-App Purchase mechanism.
Past and present reminders are stored in the Cronote database. Users can view reminders they have received as well as reminders they have pending to be sent. Reminders can be deleted at any time prior to delivery. All of the app's functionality is also provided on the main Cronote website at http://www.cronote.com.
About Cronote
Cronote is a service for creating reminders that are sent via text message or email at a specified time. Reminders may be created for personal or business use. The Remind button is Cronote's novel website widget that provides a cost-effective way to help customers remember online products.
Cronote is a web-based company established in December 2010 by graduate students from Yale University and the University of California, Irvine. Cronote aims to provide quick and easy ways to schedule reminders. Visit http://www.cronote.com/ to learn more.
Privacy Policy
Under no circumstances will Cronote redistribute or in any way use individual email addresses or phone numbers for any purpose other than sending the single reminder requested by the user. To learn more about Cronote's commitment to privacy, please see our full Privacy Policy on the main Cronote website.