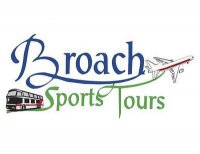 As well as television captures the beauty of the grounds, it's even more awe-inspiring in person.
(PRWEB) March 28, 2012
There's no tougher ticket in all of sports than a Masters badge, and for good reason.
The Masters is golf's most hallowed event, steeped in tradition, showcasing all of the game's greatest golfers in a wondrous springtime setting that is absolutely breathtaking.
Magnolia Lane. The Amen Corner. Azaleas in full bloom.
It just doesn't get any better.
The good news is, it's not too late to book a trip to Augusta and experience everything that makes the Masters so special.
Broach Sports Tours has specialized in a variety of golf packages to the Masters for the past two decades, and still has several exciting packages available for 2012.
Whether it's for all four rounds with lodging, transportation and Southern breakfast, or for any two rounds, or even for the early-week practice rounds and Wednesday's Par 3 Tournament, Broach Sports Tours can customize the perfect package to suit every fan's needs.
Tom Broach is the president of Broach Sports Tours, based in Charlotte, N.C., and Carlos McCracken is the director of golf.
Both have been fixtures at Augusta National going back to the days when Jack won in '86, when a young Tiger came along in '95, when Phil finally won his first Green Jacket in 2004.
They love the tournament, and they love being hosts to golf fans from around the country – around the world.
"The Masters deserves to be on every sports fan's Bucket List," Broach said. "It's the experience of a lifetime. As well as television captures the beauty of the grounds, it's even more awe-inspiring in person. There's just something in the air that is impossible to explain. And, of course, the golf's pretty good, too."
Broach knows that many fans want to spend every waking moment inside Augusta National, to savor every single second of the tournament. But he points out that there are many things to do in Augusta to complement time at the golf course. Come a day early or stay a day late, and soak up all that is "the epitome of the Classic South, a blend of Southern charm and city fun."
"One does not have to be a golfer to enjoy the Masters," Broach said. "Everyone appreciates the grounds and history of Augusta National, but there is a lot to see in and around Augusta."
Among Broach's recommendations:
Take a stroll down the Riverwalk, a six-block downtown path along the Savannah River. Go on a Pub Crawl at any (or all) of Augusta's 22 downtown pubs. Check out the statue of James Brown, the "Godfather of Soul" and an Augusta native. Visit the childhood home of President Woodrow Wilson and other historic sites. Wander down Washington Ave. adjacent to the course and scarf up all the freebies from various golf equipment and apparel companies. Enjoy Southern cuisine at one of Augusta's many fine restaurants.
McCracken, on the other hand, is a golf and sports enthusiast who would just as soon eat a couple of Augusta National's Pimento Cheese sandwiches. It's the best sandwich in the world, because the only place you can get one is at the Masters.
He's the ultimate tour guide who knows the best viewing spots, and the best times to be there. For sure, watching Jack Nicklaus, Arnold Palmer and Gary Player tee off in the ceremonial first group off on Thursday morning is a must on Carlos' list, as is spending time at the Amen Corner and watching players try to make birdies (and eagles) at the par-5 13th and 15th holes. It's good, too, to walk the entire course to get a feel for the huge elevation changes on many of the holes. TV just can't capture it.
"This is where golf history is made," McCracken said. "You can see where Sarazen made his double eagle at 15, where Tiger chipped in at 16, where Phil hit the impossible 5-iron at 13, where Jack sank his putt at 17. And as we well know, there is more golf history waiting to be made this year."
Broach's two-round packages start as low as $2391, with accommodations one mile from the course in Augusta or 60 miles away in Columbia, S.C. Extra night's lodging, airfare, rental cars and rounds of golf on nearby courses can also be added on. Check out the full list of possibilities at http://www.broachsportstours.com/golf.
It's never too early to book other golf events, either. Broach has 2012 Ryder Cup golf packages for the Sept. 27-30 event at Medinah, outside Chicago. Ryder Cup tickets are at a premium there, too, but Broach has them. And if you'd rather play than watch, Broach can tailor golf packages to Scotland, particularly St. Andrews, or golf travel packages to Ireland.
For more information, contact Melanie Hicks at 800-849-6345 or visit our website at http://www.broachsportstours.com.