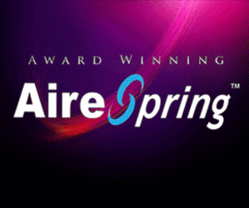 Customers of AireSpring's MPLS and Voice over MPLS products will enjoy 24 hour continuous SNMP monitoring of their networks.
Las Vegas, NV (PRWEB) March 27, 2012
Award winning AireSpring announced today from the Channel Partners Expo that proactive network monitoring is now included with all of its MPLS and Voice over MPLS solutions at no additional cost. In addition, a new online portal provides customers with real time visibility of statistical data and reports on all nodes in their network.
AireSpring's MPLS network monitoring service is now available for all AireSpring provided customer equipment and includes configuration and management of CPE. Customers of AireSpring's MPLS and Voice over MPLS products will enjoy 24 hour continuous SNMP monitoring of their networks. Any deviation in network performance will generate alarms and reports allowing AireSpring's Network Operations Center to react, often before a customer is even aware there is an issue.
"Airespring's MPLS Mesh product was a natural progression of the deep network skills that we have been providing to our enterprise business customers for years," stated Avi Lonstein, AireSpring CEO. "By building our own MPLS Mesh network with core nodes across the U.S., we are able to provide an extensive footprint reaching just about any location nationwide.  What's even more exciting is that our customers can get the advantage of meshing multiple underlying carrier access links, thus allowing them to pick the lowest cost access provider for each of their office locations, while we securely meshed them all together with a single point of contact, a single SLA and a single bill. As a result, MPLS Mesh has become one of the fastest growing products in our 11 year history. Now, with the addition of our free pro-active network monitoring we have improved upon this already industry leading product. I'd like to make it clear that we don't just want to have a great product, we want to excel in this sector by providing the most robust and cost-effective offering in the industry."
AireSpring's MPLS Mesh has won a "Product of the Year" award from Internet Telephony Magazine for outstanding innovation in networking. AireSpring continues to enhance the product with additional services and support, including CPE rental, configuration and management, secure internet access, voice over MPLS in hosted IP PBX, SIP, analog and digital handoffs and now, free network monitoring.
About AireSpring
Headquartered in Los Angeles, AireSpring is one of the fastest growing Managed Network Service Providers in the USA, offering award winning Unified Communications as a Service (UCaaS) across the widest available nationwide coverage area. AireSpring is a privately held, diversified, debt-free, and full service communications company which offers a broad range of innovative services at competitive rates. AireSpring offers next-generation IP voice, data, cloud hosted IP PBX, SIP/VoIP, Meshed MPLS and conferencing products designed to deliver power and flexibility at cost-effective rates. AireSpring has been voted "Product of the Year" for Voice and MPLS, "Best Telecom Deal," "Members Choice Top Reseller," "Top SIP Trunking Provider," "Top Channel Program" among many other accolades in recent years. For more information, please visit http://airespring.com.