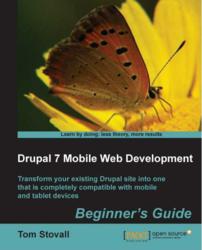 Prototype a distributed team workflow with GIT version control
Birmingham, United Kingdom (PRWEB) March 26, 2012
Packt brings to you it's first ever Drupal 7 Mobile Web Development Beginner's Guide that allows readers to implement audio, video, charting and mapping solutions that work on Mobile, Tablet, and Desktop browsers. Written by Tom Stovall, this one of a kind book will enable the reader to set up Domain Access and Drupal Behaviors that redirect mobile and desktop browsers to the version of the website most appropriate for their client.
To make the transition to a mobile site easier, this guide includes a 'Mom & Pop' restaurant site along with fun examples of a family pizza restaurant that help the readers adapt their websites to those that are fully functional in a mobile environment. Besides sharing the content across sites without resorting to a multi-site install, readers can customize themes that will present their site with a unified marketing message.
Some of the essential chapters highlighted in this book are:
Chapter 1: When is a Phone Not a Phone?
Chapter 2: Setting up a Local Development Environment
Chapter 3: Selecting the Right Domain for your Mobile Site
Chapter 4: Introduction to a Theme
Chapter 5: A Home with a View
Chapter 6: The Elephant in the Room: Audio, Video, and Flash Media
Chapter 7: Location, Location, Location
Chapter 8: Services with a Smile
Chapter 9: Putting it Together
Chapter 10: Tabula Rasa: Nurturing your Site for Tablets
Chapter 11: A Home in the Clouds
Drupal is a free and Open Source Content Management System, which is written in PHP and is used as a back-end system for at least 1.5% of all websites worldwide ranging from personal blogs to corporate, political and government sites. It is also used for knowledge management and business collaboration.
Independent developers can unleash their creativity by developing mobile-friendly menus using context and image styles to create a customized view for the home page.
About Packt
Packt is a modern, unique publishing company with a focus on producing cutting-edge books for communities of developers, administrators, and newbies alike.
Packt's books and publications share the experiences of fellow IT professionals in adapting and customizing today's systems, applications, and frameworks. Their solutions-based books give readers the knowledge and power to customize the software and technologies they're using to get the job done. You may read more here: http://www.PacktPub.com