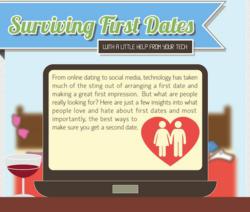 50% of the men surveyed agreed that they should be the ones pulling out their wallets, however this number was quickly followed by 33% of men who said that while they should pay, woman should at least offer
London (PRWEB UK) 26 March 2012
WeLoveDates, a leading online dating site and dating advice blog based in the UK, has published a new infographic titled "How To Survive a First Date." The infographic is based on the surprising results of a large survey they conducted of their members and viewers.
This first date survival guide infographic is a key tool that daters can use as they navigate a first date, as it provides insight into popular, and often controversial, first date topics such as kissing on the first date, first date turn-offs, love at first sight and of course, the age old question-who should pay on the first date? 50% of the men surveyed agreed that they should be the ones pulling out their wallets, however this number was quickly followed by 33% of men who said that while they should pay, woman should at least offer. Manners reign supreme.
Speaking of manners, the survey also touched on the topic of first date pet peeves. While women are turned off when their date is rude to service staff or comes on too strong, men are primarily concerned with their date flirting with someone else right in front of them...especially if he's paying.
To view the full survey results and infographic, please visit the WeLoveDates blog.