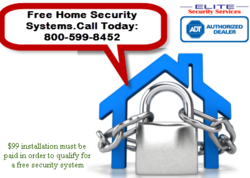 Trusted Home Security Systems from Elite Security Services Now Offering Free Three Point Protection With Advanced Window & Door Sensors
(PRWEB) March 24, 2012
The customers of Elite Security Services would now be receiving a free three point sensor protection with their home security systems. This offer will apply to all the home protection packages offered by the company. It may be recalled that Elite Security Services is one of the youngest and brightest of companies operating in the security industry in this part of the world. Within less than a year in the industry, they have been able to create a long lasting impression on the market with their low cost, yet high performance security solutions. The security packages from Elite Security Services are now available in Canada, too.
Window and door sensors are found in all standard home security systems and are probably one of the most basic components of these systems. With changing times, the modern-day sensors have also made it much easier for the house owners to create a safe home. The advanced sensors from Elite Security Services come coupled with a fabulous door chime that alerts the residents of the house whenever the entry doors or windows are opened. Apart from the three free points, the customers can also opt for as many additional points of safety as they want.
Elite Security Services was founded less than a year ago by eminent home protection consultant Mr. Paul Shakuri. His thorough knowledge of the home security systems industry has been largely instrumental behind the meteoric rise of the company within such a short period of time. After announcing the launch of this new offer, Mr. Shakuri said, "We understand what our customers want, and always try to fulfill their expectations. We have much more planned for them that would be revealed very soon". The large pool of customers of the company has expressed their pleasure about this new offer from Elite Security Services.
About the Company: Elite Security Services is a rapidly growing company in the home security industry. They offer highly efficient and economical home security solutions in America and Canada.
Contact
Paul Shakuri
Phone: 800-599-8452.
Website: http://www.YourAlarmNow.com