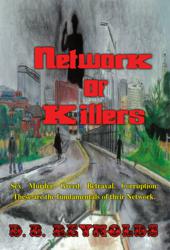 Network of Killers explodes with fireworks shooting off every page.
Kansas City, MO (PRWEB) March 26, 2012
Get ready as this suspenseful crime thriller by author D. B. Reynolds about a trio of Chicago and Kansas City crimes bosses and an FBI Special Agent takes you on one serious rollercoaster ride. Carmine and Michael Bernazzoli of the Chicago Outfit has consolidated power with Thomas Galluccio of the Kansas City Outfit for many years. Their ability to make money, exercise power and minimize bloodshed within the multi-billion dollar unions of the Teamsters has always been their clear objectives.
A new threat has arisen. That very threat is FBI Special Agent Wilfredo Feliciano. The Bernazzoli Brothers and Galluccio always believed that everybody had a price, that is, until Feliciano came onto the scene. Feliciano has been christened to investigate the unholy alliance between the Teamsters and powerful organized crime figures. The Chicago and Kansas City Mafia outfits are aware of how their notorious crime families will feel the hot breath of the U. S. Government closing in if Feliciano gathers all of his important data.
Money and power proves how the most precious jewel in their crown is the International Brotherhood of the Teamsters. As a last desperate measure, a band of bloodthirsty contract killers have been sanctioned by the Bernazzoli Brothers and Galluccio to take out Agent Feliciano. Will the three crime lords make their move on Feliciano before it's too late? Fasten your seatbelts since this supremely fascinating tale of greed, power, corruption, betrayal and sex goes where the shadows of a violent death lurks deep in the dark inner sanctums.
About the Author
D. B. Reynolds is an author, screenwriter, computer expert, and a chartered member of The Writer's Place and The Writer's Lab. Growing up in a very crime-infested section of Kansas City, D. B. was surrounded by many organized crime figures who ran their criminal rackets along strict Mafia guidelines. In 2002, he was a guest on the former daytime nationally-syndicated talk show, "The Sally Jessy Raphael Show", to talk about his experiences in an abusive foster home. D. B. Reynolds currently resides in Kansas City, Missouri.
CreateSpace is the premier book publisher for Network of Killers. For more information about this book title and author D. B. Reynolds, please visit his website at: http://www.d-b-reynolds.com.