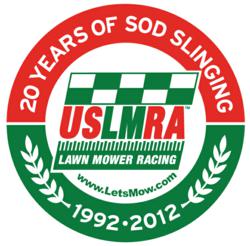 We've been kicking grass for 20 years When it comes to racing mowers, to mow us is to love us! - Bruce Kaufman, "Mr. Mow It All," U.S. Lawn Mower Racing Association Founder and President
Northbrook, IL (PRWEB) March 30, 2012
No foolin', April 1 2012 is the 20th Birthday of the U.S. Lawn Mower Racing Association (USLMRA) and its STA-BIL Lawn & Garden Mower Racing Series, and commemorations have been announced to mark this "mowmentous milestone" of what started as a whimsical, tongue-in-cheek alternative to the escalating costs of motorsports to become "America's fastest mowin' sport."
In the USLMRA hometown of Northbrook, Illinois, a Proclamation will declare the nation's first "Mow Town Day" along with official acknowledgement that weekend chores can be fun as well as productive. An Official 20th Anniversary lawn mower racing song, "Runnin' All Out" has also been unveiled to mark 20 years of sod slinging.
Founded on April Fool's Day 1992 in conjunction with Title Sponsor STA-BIL Fuel Stabilizer, http://www.goldeagle.com/brands/stabil/default.aspx, the USLMRA, http://www.letsmow.com, has been turning a weekend chore into a competitive sport for 20 years.
Bruce Kaufman, "Mr. Mow It All," USLMRA Founder and President has been there from the beginning. "We've been kicking grass for 20 years," said Kaufman. "When it comes to racing mowers, to mow us is to love us!
Kaufman would not divulge his plans for the April 1 "Mow Town Day," for fear of looking foolish. Rumors of him spending the day pulling weeds from his yard, replacing Peerless Transmissions, installing new valve springs, switching to a billet flywheel, enhancing carburetor performance or just sitting in a hammock could neither be confirmed or denied.
"Runnin' All Out " – The Official Song of the USLMRA 20th Anniversary, is a tribute to lawn mower racing. The song will raise money for Patriot Outreach (http://www.patriotoutreach.org) to assist military personnel, law enforcement, first responders or those suffering from Post Traumatic Stress Disorder (PTSD). "Runnin' All Out" can be ordered at http://www.runninallout.com.
GREAT 'MOWMENTS'
20 YEARS OF U.S. LAWN MOWER RACING ASSOCIATION HISTORY
1992
Formation of the U.S. Lawn Mower Racing Association and first STA-BIL Nationals.
Dixie Chopper Jet, The World's Fastest Lawn Mower, named as Official Pace Mower.
Inaugural STA-BIL Nationals held near Chicago.
Named one of the "Top Five Special Events" by Inside PR magazine.
1993
Inaugural Grass Cutter's Ball held to honor start of lawn mower racing season.
Featured on ABC-TV's Home Improvement season finale.
STA-BIL Nationals featured live on CBS This Morning and in Auto Week magazine.
1994
Featured on Paul Harvey Radio Network.
1995
STA-BIL Regional Series expands to 12 U.S. Cities.
STA-BIL Nationals televised on Prime/Sports channel.
1996
Named Top Entertainment/Media Event of 1995 by Brand Week magazine.
1997
Mattel Hot Wheels releases "Home Improvement Action Pack" featuring Dixie Chopper Jet Powered Mower.
Featured on TNN Friday Night Motor Madness.
Named one of three best sports quotes of 1997 by Newsweek magazine.
1998
Lawn mower racing at Charlotte Motor Speedway.
4-Race Series on The Nashville Network (TNN) Motor Madness.
1999
USLMRA membership tops 500.
Exhibitions at Atlanta Motor Speedway and Texas Motor Speedway.
Compete in the famous British Lawn Mower Racing Association 12-Hour Race.
TNN broadcasts 6-week series of STA-BIL Lawn Mower Racing.
2000
Lawn Mower Racing appears on front page of New York Times.
STA-BIL 'Rider Cup' with British Lawn Mower Racing Association.
9-week TV Series on Speedvision.
2001 – A Lawn Odyssey
STA-BIL Racing expands into Canada.
Speedvision airs 7-week Series.
2002
Local Chapters expand across the country with 20 Local Chapters by summer, 2002.
Mowers turn 80+ mph at Bristol Motor Speedway.
STA-BIL Nationals expands to 2-day racing extravaganza.
2003
Discovery Channel airs 1-hour documentary Turf Rockets: The Cutting Edge.
STA-BIL Nationals televised on ESPN2.
2004
Featured in Hollywood movie The Prince and Me.
Mowers race live in New York's Rockefeller Plaza for NBC Weekend Today Show.
2005
"Yes, Dear" CBS-TV features lawn mower racing with NASCAR star Greg Biffle.
Gold Pinnacle Award from International Festivals & Events Association (IFEA).
2006
Featured Opening Day of the 2006 New York International Auto Show.
USLMRA lawn mower racer Bobby Cleveland sets World Land Speed Record at Bonneville Salt Flats: 81.00 mph.
Lawnmower Racing Mania 2007 video game for and PC released.
2007
Two 30-minute shows air on Outdoor Channel "Motor Mania" Series.
15th Anniversary STA-BIL Nationals, Labor Day Weekend.
2008
Inaugural Performance Mowersports Expo (PME) held during STA-BIL Nationals Weekend.
2009
Featured on premier episode of Discovery Channel Series "Wreckreation Nation with Dave Mordal."
National Lawn Mower Racing Hall of Fame & Museum introduced.
2010
Inaugural U.S. Open.
USLMRA racer Bobby Cleveland reclaims World Land Speed Record, 96.529 mph at the Bonneville Salt Flats.
2011
Featured on Travel Channel's "Truck Stop Missouri."
2012
20th Anniversary of USLMRA.
"We're so proud to have STA-BIL Fuel Stabilizer supporting our sport since Day 1 in 1992, for 20 years," Kaufman added. "As lawn mower racing has grown, so has STA-BIL, to become America's top selling fuel stabilizer, and now offering Marine Formula STA-BIL Ethanol Treatment & Performance Improver, Diesel Formula STA-BIL® and STA-BIL Ethanol Treatment.
2012 STA-BIL Lawn & Garden Mower Racing Series and US Open Series Races
April 28, McDonough, GA
Windy Hill Mower Speedway, STA-BIL Southern Shoot Out
May 19, Oil City, LA
Gusher Days, STA-BIL Gusher Days Mow Down Show Down
June 2-3, Superior, WI
U.S. Cure Mower Cancer Open
June 9, Englewood, TN
Lions Club, STA-BIL Volunteer Spring Nationals
June 23, Zion, IL
Nostalgia Days, STA-BIL Land of Lincoln Nationals
July 4-5, Estacada, OR
4th of July Festival, STA-BIL Pacific Coast Summer Nationals
July 21-22, Sparta, MI
Huntington's Disease Race For Research, STA-BIL Great Lakes Summer Nationals
July 28-29, Carlisle, Iowa
River Bottom Raceway, STA-BIL America's Heartland Summer Nationals & US Midwest Open
August 3-4, Clements, MD
Bowles Farms, STA-BIL Bowles Farms Turf Battle
August 11-12, Vestaburg, MI
U.S. Open V-Twin Shootout, Vestaburg Speedway
August 18, Greensburg, PA
Westmoreland Fair, STA-BIL Northeast Summer Nationals
September 1, Delaware County Fairgrounds, Delaware, OH
20th Anniversary STA-BIL Keeps Gas Fresh Finals
Sept. 2, 3rd Annual U.S. Open (Finals), Delaware, OH
Delaware County Fairgrounds, Delaware, MOWhio
Nov. 3-4, Stevenson, AL
Sam Rogers U.S. All American Open
About the U.S. Lawn Mower Racing Association
Founded on April 1, 1992, The U.S. Lawn Mower Racing Association sanctions and presents organized lawn mower racing across America including the 20-race STA-BIL Lawn and Garden Mower Racing Series, a U.S. Open National Series, Local Traveling Chapters and Home Track Affiliated Clubs, hosting 140 events each year. The USLMRA is the nation's oldest and largest National Lawn Mower Racing Sanctioning Body with more than 800 racers nationwide. Lawn mowers race in several road course classes with all cutting blades removed at speeds from 10-60 mph. Racers compete for trophies, points and bragging rights, never for purse money. The annual STA-BIL Keeps Gas Fresh Finals national championship is televised on Fox Sports Net "Race Freaks" USLMRA sponsors include STA-BIL Fuel Stabilizer, HEET GasLine Antifreeze, Diesel Power!,104+ Octane Boost, No Leak, Alumaseal, Start Your Engines!, K&N Filters and Gnomefrenzy.com. For mow info please visit http://www.letsmow.com.
About Gold Eagle Co., http://www.goldeagle.com, makers of STA-BIL Fuel Stabilizer
For 80 years, Gold Eagle® Co. has been an industry pioneer in the production and distribution of aftermarket fluids and additives, creating products that help preserve, protect and enhance the performance of engines everywhere. Gold Eagle® Co is a leader in the product development, manufacturing, marketing, and distribution of branded engine performance and maintenance chemicals. Privately held and headquartered in Chicago, Gold Eagle Co. is the manufacturer of leading brands, including STA-BIL® Fuel Stabilizer, HEET® Gas-Line Antifreeze, NO-LEAK® Treatments, 104+® Octane Boost, Start Your Engines® and DieselPower!® Diesel Additives. To view a complete line of Gold Eagle products or learn more about the Company, please visit http://www.goldeagle.com.