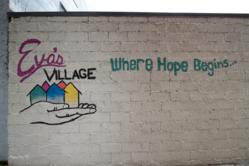 Paterson, NJ (PRWEB) March 26, 2012
Eva's Village, New Jersey's most comprehensive anti-poverty organization, is partnering with Green Demolitions and Renovation Angel. Green Demolitions, a donations program established in Greenwich, CT in 2005 with a Super Store in Fairfield, New Jersey recently launched Renovation Angel which combines all the benefits of Green Demolitions recycling luxury program with a "Give Back" to the donor's favorite charity.
By donating luxury items, many benefit: 1) Savings for donor (tax savings, free professional removal and pick up and no disposal fees), 2) Environmental benefits (reduction in landfill waste), and 3) Charitable benefits (generates revenue and positive awareness of the charity). The idea for Renovation Angel was the inspiration of Lisa Feldman, President, Operations and Steve Feldman, President. "Renovation Angel is our way of giving back to non-profit organizations the gift of earning support through recycling luxury."
The mission of Eva's Village is to "feed the hungry, shelter the homeless, treat the addicted and provide free medical and dental care to the poor." Through three decades of service, Eva's Village has established a commendable record in facing community challenges and changing the lives of the hungry, homeless and addicted. It has grown from a simple soup kitchen to become the most respected anti-poverty program in the state and now includes fourteen integrated programs. During the last few years Eva's Village has been experiencing a decline in donations during a critical time of increasing need. "During the current economic downturn, Eva's Village has been increasingly proactive in employing new fundraising strategies," states Marie Reger, Executive Director of Eva's Village. "By partnering with Renovation Angel, we are giving exisitng donors a new way to support our charity and opening the door for new donors to utilize this unique means to give back."
About Green Demolitions and Renovation Angel:
Green Demolitions History
Founder Steve Feldman witnessed a famous mansion demolition in Greenwich, CT in 2001 – which inspired the Green Demolitions recycling luxury program. Founded in 2005, Recovery Unlimited, a 501(c)(3) non-profit organization, which is a self-sustaining social, operates the Green Demolitions donation program. In seven years, Green Demolitions has recycled over 2,000 kitchens, received thousands of donations, and created 40 jobs. Through the sale of donated kitchens and estate items, over $1.7 million has been distributed to support a series of addiction recovery outreach programs.
Green Demolitions - Luxury Bargain Showrooms
Green Demolitions created a nationwide after-market of luxury bargain hunters. Achievements include: 1) retail sales of over $20 million in the last 7 years, 2) kitchens buyers from 30 states, 3) 43,000 square feet of showroom space in Fairfield, NJ, 4) hundreds of weekly customers, and 5) over 40,000 monthly visitors to http://www.greendemolitions.com. All Renovation Angel donations will be sold exclusively through Green Demolitions stores.
Renovation Angel. Donating Luxury. Supporting your Cause. Renovation Angel is the give back program of Green Demolitions, which earmarks a portion of the proceeds on qualified donations of kitchen and estate items to participating 501(c)(3) non-profit organizations. Working cohesively with Renovation Angel, non-profit organizations can create positive awareness for their charitable programs while generating additional sources of revenue. Our first "Celebrity Angel" is Edie Falco of the Sopranos and Nurse Jackie. The first "Sports Angel" is Amani Toomer of the New York Giants.
About Eva's Village:
Originally a New Jersey soup kitchen, Eva's Village was founded in 1982 by Msgr. Vincent E. Puma in response to the increasing incidence of homelessness in Paterson, NJ. But Msgr. Puma soon realized that another New Jersey soup kitchen was not enough. With the generous support of thousands of donors and private and government grants, Eva's Village has grown into the most respected anti-poverty program in New Jersey. For thirty years Eva's Village has proactively helped those in need and it does so with sound fiscal practices as recognized by Charity Navigator, awarded five consecutive four-star ratings for exceptional fiscal responsibility.
To learn more about Eva's Village, or to donate or volunteer, visit http://www.evasvillage.org. To learn more about the Green Demolitions donation program and Renovation Angel, visit http://www.greendemolitions.org/5easysteps.html