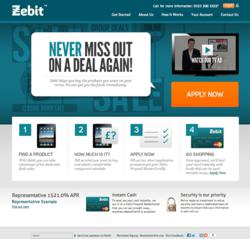 The short-term loans sector has been sorely lacking in innovation and value for the consumer. Zebit aims to change that by delivering significantly more value at lower overall cost to the customer.
London, UK (PRWEB UK) 27 March 2012
Unlike other short-term loan products that typically have a term of 60 days or less, Zebit cash provides customers with:

Flexible terms that the customer controls. Zebit customers can borrow for a day, a week, or any length of time up to 7 months, and set the repayment schedule with weekly or monthly payments.
Free instant funding. Once approved, funds are loaded immediately onto a free Zebit Prepaid MasterCard® that can be used to access funds without delay.
Cashback. Short-term loans can carry a high cost of credit. That's why Zebit is the only short-term lender that provides Cashback to customers upon successful repayment of their loan. Cashback serves as a positive incentive to help keep on the repayment plan defined. Total Cashback earned can be as high as 25% of the amount borrowed.
"The short-term loans sector has been sorely lacking in innovation and value for the consumer. Zebit aims to change that by delivering significantly more value at lower overall cost to the customer," said Chris deBoer, Sales and Marketing Director. The short-term loans sector has been undergoing significant scrutiny of late, but short-term loans, when delivered ethically, provide a valuable service to the consumer by providing an essential cushion when funds are needed. By using the right technologies Zebit is taking steps to solve the most important problems with short-term loans. Cost of credit, fairness, and incentives for responsible behaviour are our top objectives.
Zebit uses millions of bits of information to screen each applicant. Because of Zebit's extensive of use of data and unique TRANSACTION SCIENCE platform, Zebit can reduce risk and pass these savings on to our customers. "With our Cashback feature, customers have an opportunity to effectively get cheaper credit for good payment behaviour. We think this is unique in the short-term lending market."
The industry has desperately needed this level of innovation centred around the customer. It is the customer that shapes our business model and Zebit provides the innovation and technical know-how to deliver on what they need, in a timely cost effective manner. When our customer maintains their end of the agreement then we will reward them for prompt payments.
For more information please contact:
Bill Hunt
Bill Hunt Public Relations
Tel: 07956 531515
Email: bill[at]billhunt[dot]co[dot]uk
About Zebit
Zebit (http://www.zebit.com) launched in 2011 with the mission to provide a better way for consumers to finance important purchases. We think our customers know their situations best, and so we developed a product that offers responsible and transparent financing and allows our customers a high level of control. Whether it be flash sales or limited-time-only deals, we enable customers to make smart buying decisions when it makes sense for them. Zebit is a trading style of Lending Stream Limited, which operates under a consumer credit licence from the Office of Fair Trading.
The Zebit Card is issued by IDT Financial Services Limited pursuant to a license from MasterCard International Incorporated. MasterCard is a registered trademark of MasterCard International Incorporated. IDT Financial Services Limited is regulated and authorised by the Financial Services Commission, Gibraltar. Registered Office: 57-63 Line Wall Road, Gibraltar. Registered No. 95716
About MasterCard
MasterCard is a global payments and technology company. It operates the world's fastest payments processing network, connecting consumers, financial institutions, merchants, governments and businesses in more than 210 countries and territories. MasterCard's products and solutions make everyday commerce activities - such as shopping, travelling, running a business and managing finances - easier, more secure and more efficient for everyone. Learn more at mastercard.com or follow us on Twitter @mastercardnews.