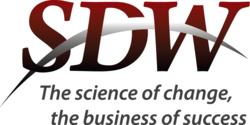 "[Haltom's] decades of experience in Native American affairs will serve us well for many years to come."
—Don Zillioux
San Diego, CA (PRWEB) March 27, 2012
Bill Haltom steps up from his role as Legal Counsel of SDW into the position of President, effective immediately. The move coincides with an expansion of SDW (Strategic Development Worldwide) from a business consultancy to a collection of divisions—SDW Advisory, SDW Training and Development, SDW Publications, and SmartBizTools.com, an online distribution partner for SDW's portfolio of business products and services.
Haltom will also head up the SDW Training and Development division as well as provide focused support to the gaming services team within SDW Advisory. His background includes business organization, Indian law, natural resources law, and economic development.
"Bill has been an invaluable member of our team for many years and I can think of no better person on the planet to shepherd our company through this current growth phase and diversification," notes SDW's CEO and Chief Scientist Don Zillioux. "His insightful leadership qualities, knowledge of business processes, understanding of the legal environment, as well as his decades of experience in Native American affairs will serve us extremely well for many years to come."
Throughout his career, Haltom has worked extensively on Native American economic development and helped his clients establish numerous enterprises and federally chartered corporations to develop championship golf courses, restaurants, hotels, office buildings, mobile home parks, and gaming operations. With his accumulated knowledge of Native American enterprise development, he has also advised many businesses on working with Indian tribes and organizations.
"I have never stopped learning in my service to clients," Haltom notes. "My involvement with Native American organizations has been especially satisfying because development there doesn't just benefit a business but a community as well. As President of SDW, I know the resources of all of our divisions can make a difference in the enduring success of Indian tribal organizations."
Mr. Haltom, licensed to practice law in New Mexico, was a founding member of the Nordhaus Law Firm (New Mexico) and has successfully litigated major Indian tribal cases on oil and gas royalty accounting, NEPA compliance and taxation. In the case of Merrion and Bayless v. Jicarilla Apache Tribe, the U.S. Supreme Court upheld the right of tribes to tax non-Indian oil and gas producers. Haltom has served as Issuer's Counsel in tax-exempt and other bond transactions for several tribes and has served as lead counsel in several tribes' implementation of tax ordinances and programs.
Haltom earned his undergraduate degree from University of New Mexico (BA 1969) and his law degree from Texas Tech University School of Law (JD 1972). As SDW President, Bill Haltom welcomes inquiries from prospective clients and strategic partners (505-235-5043 or billh(at)sdwnet(dot)com).
About SDW
SDW (Strategic Development Worldwide, LLC) was organized in 1979 to bring the power of management science and data-based processes to assisting client companies in achieving organizational excellence, value, and sustainability. SDW and its associated divisions—SDW Advisory, SDW Learning, and SDW Publications—have consulted with a broad array of organizations, including Fortune 500 firms, universities and schools, hospitals, food marketing chains, hotel, gaming operations, and computer firms.
SDW provides services to organizations interested in improving management effectiveness, operational excellence, HR programs, customer experience, and profitability. In addition, SDW offers a slate of services and programs specifically tailored to Native American organizations in the areas of enterprise and board development, mentoring and coaching, gaming operations, and more. Inquiries about SDW's results-focused services, business tools, and publications can be directed to info(at)sdwnet(dot)com. For more information, please call 619-269-7338 or visit http://www.sdwnet.com.