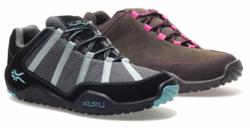 (PRWEB) March 26, 2012
Each year around this time, About.com features its reader's choice awards. This popular reader-driven awards program began in 2008 and has expanded to highlight the best products, features and services across a wide variety of topics. This year the Readers' Choice Awards showcase the best in hundreds of categories across most of About.com's channels, ranging from technology to hobbies to active footwear.
It is an important year for KURU Footwear, as the KURU Chicane hopes to defend its 2011 title as the About.com's Reader's Choice Award Winner for Best Trail Walking Shoes. What's more is that the company has been nominated for the first time in the Best Comfort Shoes category as well. "We are excited to be nominated in both categories this year, and we honestly believe that the unique technology of our shoes lends to extreme comfort, which in turn is ideal for walking long distances and hiking vigorous trails." - Bret Rasmussen, CEO KURU Footwear.
The company faces some pretty tough competition this year which includes well known comfort and hiking brands such as Ecco and Salomon. Challenging Ecco in the Best Comfort Shoe category in 2012, is the KURU Aalto Chukka which claims to have a unique heel cupping technology that naturally supports your foot for optimal comfort.
Voting on the shoes closed last week, and results for the winners of these awards will be announced March 30, 2012.