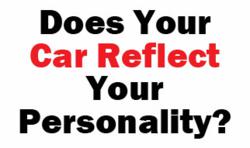 Find out if your car reflects your personality
(PRWEB) March 26, 2012
While many people will not give another thought to the car that they drive, a digital expert is conducting a survey to find out if cars really declare a driver's personality.
As Kishore shared, "After visiting hundreds of forums dedicated to automobiles, I was inspired to do a survey on the topic to find out how online users feel about their own cars."
"It is also amazing to see the number of books that are coming out every year about the topic of automobiles and personality." Kishore continues, "A peek at amazon.com or a stroll through your local bookstore will show you the growing interest in this topic."
From 'You Are What You Drive: What Your Car Says About You by Jay William Lamm' to 'The Automobiles that Shaped Our History', there have seen a slew of books on the topic.
Kishore also revealed another reason for taking his automobile quiz to the world. "I have seen countless ads that sell dream cars but very few have tackled the personality angle of automobiles. Instead of railing against these ads, I decided to turn tables and ask online users about their own experiences."
Utilizing sophisticated database technology as part of his role as a Digital expert, Mr. Kishore will publish the answer to "Does Your Car Reflect Your Personality?" once responses to his income quiz have been tabulated from around the world.
Kishore encourages people of all countries to take the automobile quiz. Respondents will be added to a special notification list alerting respondents when survey results are published. The survey, and the details of the participation, can be viewed at http://www.loautos.com/
About:
Kishore Dharmarajan is the author of Adwords Campaign Management Secrets, Pay Per Click Advertising Secrets, Google Adwords Management Secrets and Sniper Marketing. Besides these books, Kishore Dharmarajan has published several books including Eightstorm, Beyond Guerrilla Marketing, How to Think Like Steve Jobs and has spoken in front of thousands on such topics as Social Media Marketing and Digital Marketing.