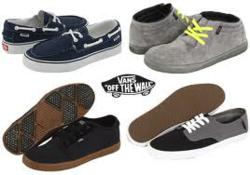 "Vans hanging footwear appeals to such a diverse audience. It gives the person who doesn't ride an opportunity to make a purchase and build a relationship with the shop."
Annapolis, MD (PRWEB) March 26, 2012
Great pricing, functional and just plain cool; hanging footwear is here to stay.
What began in the surf and skate industry as Sanuk's "these are not shoes" hanging footwear, other sandal and shoe companies have taken hold of this category and have given it a look of their own.
Pure Board Shop stocks Sanuk Sidewalk Surfers and Vans hanging closed-toe footwear.
"This has been a popular part of our shoe selection for a couple of years now," manager Mike Robertson has to say. "Vans spring line looks really awesome."
Surf customers, older customers and the local guy looking for a comfortable, affordable and clean style shoe to wear out at night are jumping on this product.
Being a core skate shop, Pure doesn't sell as many of these shoes as an ocean side surf shop.
Though it isn't their primary target market, it makes sense to keep these products on the wall as sell through is quite good.
Pure sells a fair share of surfboards, skimboards and bodyboards and does get a percentage of these customers through the shop.
Kit it with a tank top and board short, these closed-toe sandal type shoes are easy and stylish.
Pure's skate shoes and sandal business doesn't suffer from these sales, it seems to be a whole new market or an add on sale. Treated as a an impulse item, these shoes are displayed as sandals and don't take a salesperson off the floor.
A great on-line sale, pureboardshop.com sells their stock of hanging footwear as well as skate shoes and sandals.
Nike SB, Adidas Skateboarding and Vans are Pure's best selling skate shoes.