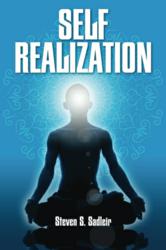 Self Realization serves as a guide to help the reader find the answers that lie within them.
Los Angeles, CA (PRWEB) March 26, 2012
CreateSpace and the Self Awareness Institute has just released the latest book by best-selling author Steven S. Sadleir called Self Realization. Steven's new non-fiction book serves as a guide to help people find and fulfill their life purpose and destiny. According to Mr. Sadleir, "The answers we seek lie within us, and Self Realization serves as a guide book to help you find those answers within."
Steven S. Sadleir is the best-selling author of Looking for God, also published by Amazon's CreateSpace imprint, and Wake Up, Live the Life You Love made #3 on Barnes and Nobel's best-seller list a few years back. His other books include The Awakening, The Calling, Naked Soul, Christ Enlightened, Money & Power, the Secret History as well as others.
Steven is a Kundalini master and Siddha yogi, host of Enlightenment Radio and founder of the Self Awareness Institute with students in over 120 countries. He also appears in two recent movies: Spiritual Revolution and 3 Magic Words, and will be speaking at the upcoming Enlightened Entrepreneurs Conference and at Peak Potentials this year.
The chapters of Self Realization include: Who you are, What God is, Evolving Consciousness, The purpose of life, Love, The Movement and Your calling. The back cover reads: Reading this book is a meditation: as you are reading this book and reflecting upon what is being shared not only will your mind access and awaken an inner knowing but your spirit will speak to you and guide you to fulfill your destiny and purpose. Steven will also be giving a series of free teleconferences on this subject over the next few months and is appearing on numerous radio stations.
For more information contact Kim Mason at 949-355-3249 or http://www.SelfAwareness.com
Self Realizaion
Steven S. Sadleir
ISBN 978-1468039351
Paperback, 200 pages, $12.95
Published & Distributed by Amazon