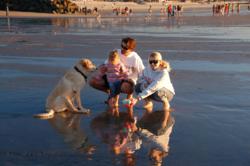 Family members experience various emotions... there is no right or wrong ways to feel.
San Diego, ca (PRWEB) March 29, 2012
In 2009 The Balanced Mind Foundation conducted a survey that showed over 60% of the children of respondents have been hospitalized at least once and nearly 40% have had multiple hospitalizations, highlighting the severity of pediatric bipolar disorder and the need for support for patients and their families. There are many families who care for someone with bipolar disorder and know what a heavy burden it puts on the family. Particularly if not equipped with the knowledge and skills needed to cope with mental illness, it can be exhausting, especially for families with young children.
Maggie Reese, author of the new book "Runaway Mind, My Own Race with Bipolar Disorder" knows all too well how family members experience various emotions as they learn to come to terms with dealing with someone who has Bipolar Disorder. There are no right or wrong ways to feel. What is important is how the family handles these emotions. Her book is now available through Amazon.com and her website http://www.runawaymind.net
In her book Maggie Reese tells about her journey with Bipolar Disorder and how her family tried to live with a person who has Bipolar Disorder and how it involved learning how to deal with the disruptions that symptoms can create, supporting her through recovery and the family learning methods to cope with the effects on the family. Bipolar disorder can place a heavy strain on families. There were times when mood swings became mild and provided hope but over time and with education about mental illness they learned to live with the demands of the illness.
Available now for download, Maggie has also put together a free guide to families living with Bipolar Disorder. Her life's mission is to help people and families living with mental illness know there is hope. She wrote this guide, courageously honest and open, detailing the challenges of her family as they support Maggie in her own race with the Bipolar Disorder.
(Click here to download a free copy today.)
Families and people dealing with Bipolar Disorder have found reading the new book "Runaway Mind, My Own Race with Bipolar Disorder" thoroughly enjoyable, engaging, a type of handbook filled with firsthand accounts of what life can be like with bipolar disorder. Through the book Maggie invites readers into her life during this very trying time and gives the reader an intimate description, through diary entries and family recollections, of a mind spinning out of control into the world of manic depression. Maggie shares with the reader very personal details in an attempt to offer "invaluable help to families in understanding what their child is going through — and to provide the hope that there can be a future."
The International Bipolar Foundation nominated and approved Maggie Reese to be on their Executive Board and she is the recipient of the 2011 Young Advocate of the Year Award presented by N.A.M.I. of San Diego.
Maggie continues to plant the seeds of hope for those living with and affected by the Bipolar mental disorder through her website at http://www.runawaymind.net,
Follow her journey at her blog Maggie's Runaway Mind world at chicwildmamma.blogspot.com, post questions and follow her on Facebook at facebook.com/RunawayMind.
Maggie shares her day to day challenges and moments of hope on her YouTube channel at http://www.youtube.com/runawaymindbook and can also be heard monthly on new show Runaway Mind on Blog Talk Radio interviewing her guests in a fun and deeply honest style.