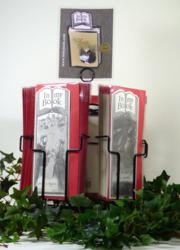 "These sentimental greetings make endearing gift enclosures, especially when the present is a book" - Publishers Weekly
Brooklyn, New York (PRWEB) March 26, 2012
Bookstores need something extra these days to distinguish themselves from their on-line competitors; a community focus, excellent customer service and non-book items to entice their customers to add something extra at the register. Both library and book shops make good hunting grounds for what is known in the business as "sidelines," products that complement literary activities, such as book-bags, reading glasses and bookmarks.
Particularly for those books given as gifts (used books make great 'green' gifts), shoppers may want to include a bookmark, as the reader will need to take a breather. In the realm of bookmarks, this one is different: In My Book® cards function as both a greeting card and a bookmark.
Like most greeting cards, In My Book® cards come complete with a (red) envelope for mailing, but unlike the typical greeting card, they are printed on heavy watercolor paper to extend their life as a bookmark (the entire front of the card perforates). Featuring a multitude of literary themes and New Yorker-esque illustrations by Meredith Hamilton, the cards fit comfortably inside a paperback or hardcover, a picture of an open book just peeking out from the top. With the recent addition of three new styles this month (In my book, you're a legend; In my book, you're out of this world; and In my book, you're a winner), these multi-tasking cards are now available in a total of eighteen designs, including old favorites "you're rare" and "you're the happy ending."
In My Book was founded in 2000 by publisher Robin K. Blum, The company recently exhibited at the biennial Public Library Association Conference in Philadelphia, where librarians were able to purchase the cards for resale at their library shops or for Friends of the Library groups to sell as fundraisers. Nancy Pearl, the author of the "Book Lust" series and model for the famous shushing librarian action toy, has called these cards "perfect for book lovers, from fans of mysteries to poetry lovers, to general readers of all ages and tastes." The cards are sold at the Library of Congress Gift Shop, DC's Books Plus, and numerous other library, book and museum shops across the US and Canada.
Since the company was founded, the book business has changed a lot, but there will always be readers who enjoy sharing their love of reading. The cards have been sold in over 700 independent book, library and museum stores; and are also available for purchase to individuals online. Cards may also be purchased as fundraisers for a library or other worthy cause at http://www.inmybook.com.