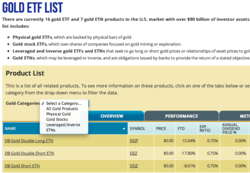 a one stop resource for investors researching gold ETF and ETN products
Chicago, Illinois (PRWEB) March 27, 2012
GoldETFs.biz has launched a complete gold ETF list as a free educational resource for investors on gold ETF and ETN products. With over 20 different gold products available, the gold ETF list will provide one stop access to data on every gold ETF. The list contains over 40 data points for each product and is sortable by performance, expenses, and a variety of other metrics. In addition four predefined gold ETF categories are available to view: gold stock ETFs, physical gold ETFs, leveraged and inverse gold ETFs and gold ETNs.
"Investor interest in gold ETF and ETN vehicles has been substantial," said Christian Magoon Publisher of GoldETFs.biz. "Along with that interest has come the need for convenient educational resources on gold ETF and ETN products. GoldETFs.biz, and its gold ETF list, is designed to be a one stop resource for investors researching exchange - traded gold products."
There are over $90 billion of investor assets contained in gold ETF and ETN products. Leading Sponsors of gold ETFs include iShares, State Street, ProShares, Direxion, ETF Securities and Market Vectors.
Besides the gold ETF list, GoldETFs.biz delivers the latest news affecting gold prices, insight on gold market trends and regular analysis of gold ETF and ETN products. A free weekly Gold ETF Report is available via email subscription.
About GoldETFs.biz
GoldETFs.biz was designed to be a focused, convenient, educational and social source of gold market, ETF and ETN information for investors. The site provides a complete gold ETF list and data, consistent analysis and curated real time gold market sentiment through focused Twitter lists. Visitors to the site can subscribe to the free weekly Gold ETF Report email covering gold markets and the ETFs that track them. Content is also available via YouTube, Google+ or Twitter. Follow @GoldETFsBiz on Twitter.