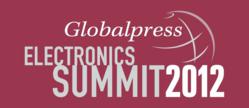 San Jose, CA (PRWEB) March 27, 2012
Globalpress Connection (http://www.globalpresspr.com), a global public-relations agency that brings international media directly to the high-tech industry, announced that leading semiconductor companies will once again use the Globalpress Electronics Summit 2012 as a forum to introduce and highlight their recent product and technology advances to a global media audience.
At the 10th annual Globalpress Electronics Summit, to be held from April 23 - 26 at the Chaminade Resort in Santa Cruz, Calif., media from Asia, Europe and the US. will hear keynotes and press briefings. Also, extremely popular is the opportunity to conduct private interviews with executives from leading semiconductor companies including Altera, Algotochip, Apache Design (a subsidiary of ANSYS), Berkeley Design Automation, Broadcom, Embedded Vision Alliance, Intersil, Lattice Semiconductor, Maxim Integrated Products, Mentor Graphics, Silex, SiTime, Spansion, Tensilica, WiSpry and Xilinx. An extensive Product Showcase by participating presenters will accompany each day's press announcements.
Technologies to be featured will include wireless infrastructure, pico projection, the latest EDA tools, IP Cores, automotive driver-assistant solutions, digital-to-sensor revolutions, MEMS timing, memory, ASIC and FPGA developments, and much more.
"This year, we have the pleasure of presenting a keynote on 'Silicon Valley's Secret Sauce' by Steve Wright of the Silicon Valley Leadership Group," said Irmgard Lafrentz, president of Globalpress Connection. "We expect this topic to spur lively discussions among Summit participants about whether Silicon Valley still matters as a global driver of innovation and economic growth."
Globalpress Connection is still accepting limited reservations from semiconductor companies interested in placing their top executives as speakers. irmgard (at) globalpresspr (dot) com, president of Globalpress Connection.
About Globalpress Connection
Globalpress Connection is a San Jose, Calif.-based public relations agency that has pioneered high-value methods for bringing international media directly to high-tech companies. Globalpress' annual Summit and a new conference, euroasiaPRESS 1:1, allow U.S. companies throughout the electronics ecosystem to meet in person in Silicon Valley with European and Asian trade and business journalists, avoiding the need to mount international press tours. More information is available at http://www.globalpresspr.com