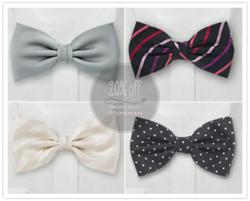 ...weddings can cost a small fortune, which is why we strive to help our customers save as much money as possible when shopping for ties
San Francisco, CA (PRWEB) March 26, 2012
Bows-n-Ties.com, a popular online specialty retailer for fine men's ties, is excited to announce a partnership with 100 Layer Cake; one of the most prominent bridal blogs on the Internet. 100 Layer Cake is currently offering readers a promo code that is good until June 30th, 2012 for a 20% discount on orders from Bows-n-Ties.com. Customers need only to enter the coupon code "100layercake" during the checkout process in order to receive the discount.
"It is with great pride that we announce our partnership with the reputable bridal blog 100 Layer Cake," says Bows-n-Ties.com founder Hendrik Pohl. "We expect this partnership to be profitable not only for our company, but for our customers and 100 Layer Cake readers as well. After all, weddings can cost a small fortune, which is why we strive to help our customers save as much money as possible when shopping for ties."
Founded in 2007, Bows-n-Ties.com has grown to be one of the largest retailers of ties in the United States. In addition to selling a host of ties and accessories suitable for all occasions, the company's website features a dedicated section for grooms and groomsmen who are in search of the perfect wedding ties. Through using a robust search tool contained on the website, customers can browse bridesmaids dress colors from JCrew, Alfred Angelo and David's Bridal in order to find ties that serve to be the perfect compliment.
"Matching ties with bridesmaid dress colors can be rather tricky," says Pohl. "Since time is always a factor in planning a wedding, it's important to us that our customers be directed toward the right ties without having to experiment with different color combinations to find the right fit. We've put a great deal of effort into selecting the best matches for neckties, bowties and pocket squares that relate to bridesmaid dress colors from three of the world's most foremost bridal designers."
Customers can use the wedding section of Bows-n-Ties.com to search a variety of popular bridal colors, which have been conveniently matched up with ties and pocket squares that serve to complement the colors perfectly. The collection contains over 200 popular wedding colors including hard to find matches such as sunbeam yellow, guava, watermelon, pool blue, sangria, and cactus green.
"A lot of people would spend hundreds, if not thousands of dollars on a designer to coordinate colors for their wedding attire," says Pohl. "Our search tool allows for one to discover a variety of viable options without the need to hire a professional, which can go a long way in today's economy." Should the tie not be the perfect match, then Bows-n-Ties.com offers a 100% money back, no questions asked, return policy.
For more information about the partnership please visit: http://www.100layercake.com/blog/2012/03/22/bows-n-ties/