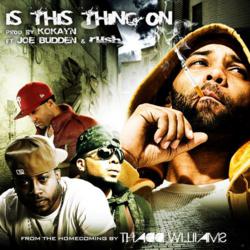 Miami, FL (PRWEB) March 24, 2012
Midwest producer KoKayn recently released the mixtape "Is This Thing On." Presented with Thadd Williams, the project features Shady Records' Joe Budden along with freshman phenom Rush. Coast 2 Coast Mixtapes also presents the project, which is now available for free download. "Is This Thing On" features three versions of the title track, along with bonus tracks "Kill Switch" featuring Rush and KoKayn, and "Lyrical Massacre," with Thadd Williams, KoKayn, and Rush.
Hailing from the Midwestern streets of Dayton, Ohio's west side, KoKayn brings aggression and energy with his triple threat approach to hip hop music and the entire industry. With innovative sound, elite lyricism, and a look that the ladies love, KoKayn is total package musical entity.
Kayn was born in the early '80s and was raised in one of the roughest neighborhoods of Dayton's west side. As an inner-city youth, KoKayn wasn't just a product of his environment—from birth it had been said that he had many special abilities, including an uncanny memory, discovered his second grade music teacher, who found him playing a selection by Beethoven by ear. By high school, Kayn was writing his own lyrics, producing his own tracks, and performing in shows. Though he went on to join the active duty Air Force, Kayn knew that music was still his destiny, and became well known for his production, entering beat battles and earning several "Beat King" titles.
KoKayn is now on the fast track to success, doing track production for the likes of Shady Records artist Joe Budden, Maybach Music songstress Teedra Moses, rising star comedian Felonious Munk (with nearly 10 million web views and 4 million weekly viewers/listeners on the WPIX network), commercial/movie production, and much more. He also has started his own publishing/production company, KINGDOMI music.
"Is This Thing On" is available for free streaming and download at http://coast2coastmixtapes.com/mixtapes/mixtapedetail.aspx/prod-by-kokayn-is-this-thing-on-ft-joe-budden-and-rush