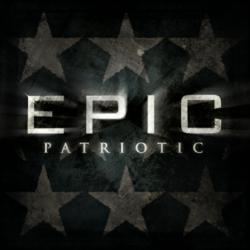 ...the cutting edge arrangements of these songs results in an intense, heroic and massive patriotic sound that has never been heard before.
Los Angeles, CA (PRWEB) March 26, 2012
Brand new music licensing website RoyaltyFreeKings.com released an album today that combines a 21st century Hollywood blockbuster sound with America's favorite patriotic songs. Aimed at video producers looking for heroic and quintessentially American background music, the album "Epic Patriotic" features five of the most well known standards: "Hail to the Chief," "The Star Spangled Banner," "Stars and Stripes Forever," "You're a Grand Old Flag" and "Yankee Doodle."
While respecting the splendor and majesty of the original melodies, the cutting edge arrangement of these songs results in an intense, heroic and massive patriotic sound that has never been heard before. Tracks like "Yankee Doodle" and "You're a Grand Old Flag" feature epic, soaring brass, strings and choir on top of propulsive rhythms driven by a huge percussion section, guitars and synths. The national anthem "The Star Spangled Banner" features a more traditional orchestration, yet still builds to a triumphant and exhilarating finale.
The royalty free patriotic music is available now at RoyaltyFreeKings.com for immediate download.
One of the co-founders of RoyaltyFreeKings.com is composer Mark Petrie, who produced all the epic patriotic arrangements featured on the album. Well known for his epic and inspirational music, Mark recently had tracks used in trailers for "The Amazing Spider-Man," "Journey 2," "The Grey" and "The Green Lantern." The New Zealand born composer also contributed to a number of other albums in the RoyaltyFreeKings.com catalog, including the royalty free heroic music 'Heroic and Inspiring' and much of the royalty free action music featured in the 'Action Film' album series.
Up until now, independent video producers had to choose between using music without legal clearance or visiting licensing websites with massive, unwieldy catalogs stuffed with 1000's of dated, mediocre sounding tracks. RoyaltyFreeKings.com makes the music licensing process much easier by ensuring every track in the catalog is of the highest quality. Unlike other royalty free music websites where anyone can upload and sell music, the strict vetting process at RoyaltyFreeKings.com results in an affordable premium quality alternative where a customer can find, license and download the background music they need in just a few minutes.
While there are plenty of high demand categories like royalty free inspirational music, rock, pop, funk, jazz and acoustic available on the website, RoyaltyFreeKings.com specializes in music that is practically impossible to find on other stock music websites, such as: ethnic action, yoga lounge and spy music. Soon to be added are patriotic jazz, patriotic rock and epic Christmas.