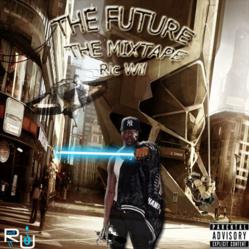 Miami, FL (PRWEB) March 25, 2012
Hip hop artist Ric Wil recently released his mixtape "The Future." Coast 2 Coast Mixtapes presents the project in association with R U Wit It Entertainment, and it is now available for free download. "The Future" features Ric Wil on tracks with guest artist appearances from Chesta Cheez, Celosolo, and Divinicci. Production credits include Ric Wil, Divinicci, and Celosolo.
Ric Wil—raised in Jamestown, NY and who now calls Gary, IN home – grew up in a family of musical performers who constantly roped him in to their rehearsals. At 10 years old, Ric had set his sights on being a famous musician and rapper, but it was trombone lessons that filled most of his musical time. He imitated the famous and influential rappers of the day until he grew comfortable with his own talents and found his performing persona. Enlisting in the Army interrupted Ric's hip hop dreams—he only recorded sporadically when he was on leave back home, and while other music opportunities popped up, loyalty to his crew kept him from recording with any other artists. Ric had four songs he'd recorded with his cousin Chad "Celosolo" Wilson in their group they dubbed W2. They sent out the songs as demos to labels, and while they waited, Ric met Uttmore Brevard, a.k.a. "Divinicci," a fellow soldier. They formed a group called Wit It Wit It Crew.
With a new musical partner and his Wit It Wit It Crew, Ric's hip hop breakthrough was just around the corner, but he suffered an unexpected spiritual blow when his little brother passed away in March 2010, of heart failure. Jonathan "J Phenomenon" Wilson was his name, and he was a rapper like his big brother. His death was "out of the blue," Ric says. "Losing him pushes me to want to do my music and 'blow up' like he said I would." That emotional "push" and the journey to reach his hip hop destiny inspired Ric and Brevard to invest in their own recording equipment and produce their own recordings together under the moniker R U Wit It Entertainment. Their first release is Ric's mixtape "The Future," with the dual single release "So Outta Here" and "The Future" to follow.
"The Future" is available for free streaming and download at http://coast2coastmixtapes.com/mixtapes/mixtapedetail.aspx/ric-wil-the-future.