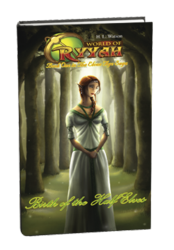 World of Ryyah EBook is now only 0.99$
(PRWEB) March 26, 2012
"I originally created many of these concepts to be used as a back story for a videogame concept," said author H. L. Watson during an interview. "But as time went on I discovered that the content I created was also a very good story and I decided to form it into a fantasy book series." This is the first book of what may become a 6 book series.
The writing career came as a bit of a surprise to H. L. Watson. " It was about January of 2011 when I first started writing and I surprisingly discovered from my friends, family and early supporters that I was actually pretty good at it, which was a complete surprise to me because I had never thought of doing anything like this before." As for where the source of concepts originate, he explains, "My ideas about the elves mainly come from my imagination, but I do pull in some inspiration from traditional customs and lore of medieval Europe."
What are reviewers saying?
S. Marie Vernon, PacificBookReview.com
With the "World of Ryyah-Birth of the Half Elves" , H. L. Watson has created an extraordinary piece of Elven fiction. A book that is a must read for those who still believe in magic; the magic of love and romance, the magic of a loyal family, and the magic that can renew one's faith when all they hold dear is lost. This is the magic we find in myth and legend that leaves us spellbound. And, spellbound you will be anticipating Mr. Watson's second book in the Epic Saga of the Elven Age!
Paige Lovitt, ReaderViews.com
"Birth of the Half Elves" is a wonderfully written Elven fantasy. I read it in one sitting. As a matter of fact, as soon as I started reading, I was hooked, and I wished that I had all six of the books that are in the series. The story is unique in that humans are trained in the Elven ways. Having a romance between a human and an elf also leads to some interesting dilemmas. The background descriptions of the places where the tale takes place are colorfully written and easy to picture. The characters are also all very complex and add a great deal of reality to the story. I highly recommend this novel to fans of fantasy fiction.
Anna del C. Dye, ReadersFavorite.com
This short story or novelette will be well received by all those who love elves and young adults in general. It has a sex scene without going into great details. I found the scene very well done and congratulate the author for being tasteful. This is a fun book that really sparkles.
Visit Amazon.com to buy your EBook today for only 0.99$.