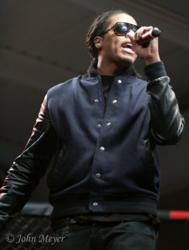 "I'm looking for a place to call home, not just money"
(PRWEB) March 26, 2012
Decorated underground hip hop artist, B.DeLaney, has officially announced that his highly anticipated mixtape "Be Patient" will be released for free online at http://www.BDeLaney.Bandcamp.com on Sunday, June 3, 2012. Sponsored by the fastest growing fight league in the nation, MMA Melee, this project is expected to take the Virginia artist to the "Big Leagues".
B.DeLaney has already made a major impact as an independent artist. After getting the attention of Mike Malast, CEO of MMA Melee, B.DeLaney made history by becoming the 1st artist ever to be sponsored by the league. This launched a national tour. While taking the new "hip hop and fight world" brand to the next level, B.DeLaney has performed in venues such as Mohegan Sun Arena, 1st Mariner Arena, Toyota Arena, and more. In between touring with MMA Melee, DeLaney stopped in New York to headline the sold out "Future Stars" showcase held at the world famous Apollo Theater. Word is, he lived up the name.
In addition to the accomplishments DeLaney has achieved with touring, he has also became an online success. B.DeLaney has accumulated over 400,000 views on YouTube with his videos. Word quickly spread of the Virginia artist and made its way to New York where DeLaney has caught the attention of numerous major labels. No information has been leaked, but it is no secret that B.DeLaney has had several meetings with Sony Records and Atlantic Records. "I'm not in any rush to sign a contract. I'm looking for a place to call home, not just money" says B.DeLaney.
After collaborating with Young Money artist Tyga, it was rumored that B.DeLaney was negotiating a deal with label. The straight-forward artist quickly shut down the rumors stating, "I'm a big fan of the Young Money brand, but I'm not in negotiation with the label at all." B.DeLaney has also recently done projects with Wale's artist Black Cobain and Bad Boy artist Donnie Klang. The song with Donnie Klang is expected to be featured on B.DeLaney's new mixtape "Be Patient" as a bonus track.
With all that DeLaney has accomplished, one thing is clear. You have to "Be Patient" to be successful. The media, fans, and skeptics have been anticipating the mixtape release since B.DeLaney mentioned it to his thousands of followers on twitter a few weeks ago. Now, ladies and gentlemen, a date has been verified. "Be Patient" June 3, 2012
Follow B.DeLaney on twitter @ImBDeLaney https://twitter.com/#!/imbdelaney