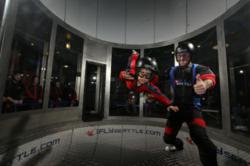 We are all about providing top-flight customer service and Sound Telecom has helped us greatly to that extent.
Seattle, WA (PRWEB) March 26, 2012
Sound Telecom's professional call center support services team recently launched a successful help desk solution for iFly Seattle.
SkyVenture, founded in 1998 by professional skydivers, built its first indoor skydiving simulator in Orlando, Florida. Since then, it has become a world leader in indoor skydiving and training with wind tunnels located world-wide. Bill Adams, President of SkyVenture's iFly Seattle Indoor SkyDiving franchise location in Tukwila, Washington, reached out to Sound Telecom to develop an outsourced customer support solution for his business.
"iFly is a forward- thinking organization," says Brian Gabriel, Chief Operations Officer for Sound Telecom, "We had the opportunity to build a service program before the iFly Seattle location opened for business." Sound Telecom developed a solution that allows prospective iFly customers to have their questions about skydiving answered quickly and accurately, ultimately resulting in booking flight time in the wind tunnel. "The key to our success at iFly," says Mr. Adams, "is booking flight time. Actual customer reservations amount to converted sales. So reservations are very important to us."
To develop a successful support strategy, Sound Telecom looked at the entire process from "phones to desks" and essentially created a 24/7 cloud-based solution. Sound Telecom designed a robust auto-attendant for iFly's phone system to initially greets callers. Then it developed a live agent support system to speak directly to calling customers.
Further, Sound Telecom integrated call center operations with iFly's internal reservations system. "Because we have online access to iFly's reservation systems," says Mason Reinders, programming engineer for Sound Telecom, "we expanded iFly's front desk capacity into a 24/7 operation." In essence, Sound Telecom quickly doubled iFly's customer service availability. This allows iFly to spend more time interacting with onsite visitors. Sound Telecom answers a variety of questions for prospective skydivers while booking their reservation requests. Sound Telecom is able to build a positive expectation before potential skydivers ever walk in the door.
"In the month of December, 2011, our operation was able to sell thousands of dollars of promotional materials such as videos, pictures and T-shirts to our customers because we gave them a huge amount of personal attention," noted Mr. Adams. He added, "We are all about providing top-flight customer service and Sound Telecom has helped us greatly to that extent."
About Sound Telecom
Sound Telecom is a leading provider of 24 hour Telephone Answering, Call Center and Unified Communication Services, headquartered in Seattle, Washington and professionally serving thousands of customers throughout the United States and Canada with USA based agents. The twenty-five year old company has offices in Seattle and Spokane, Washington and Denver, Colorado. For more information, please visit http://www.sound-tele.com
About iFly Seattle Indoor SkyDiving
iFLY Seattle Indoor SkyDiving, located in Tukwila Washington, is the newest addition to SkyVenture's indoor skydiving franchise. It is a partnership between Chester Schwartz, Bill Adams and SkyGroup Investments, LLC. iFLY Seattle Indoor Skydiving is an experience where childhood dreams of flight become reality. Flyers soar on a column of air inside a vertical wind tunnel. SkyVenture is the world leader and most experienced company when it comes to vertical wind tunnels. For more information, please visit http://iflyseattle.com
Contact Information
Sound Telecom
Michael L. LaBaw, President
800-577-1550
http://www.sound-tele.com
iFly Seattle Indoor SkyDiving
Lysa Adams, Marketing Director
206-244-4359
http://www.iFlyseattle.com