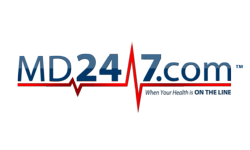 MD247 Wants To Keep People Healthy
St. Petersburg, FL (PRWEB) March 25, 2012
If you are a member of the MD247.COM program, and begin to feel ill, MD247.COM would like to provide the opportunity to talk to a doctor right away using their telemedicine call line. The benefits of talking to a doctor early on in an illness are well-proven, with those who seek the professional care of a doctor having faster recovery times. This means that a person suffering an illness can avoid extra days missed at work, and get back on their feet quickly. At a time when people can scarcely afford to miss work, the ability to talk to a doctor on the schedule of the patient is important. Now it is possible for MD247.COM program members to talk to a doctor anytime of the day. All MD247.COM program members can talk to a doctor with by calling a toll free number provided to all program members.
If someone does not have insurance due to expense or pre-existing conditions, the MD247.COM 24 Hour Talk to a Doctor Call Line brings affordability to healthcare. Even if a patient does have insurance the cost for MD247.COM, and the expense associated with the Talk to a Doctor Call Line, is typically less than most co-pays insurance requires. This represents a savings for everyone no matter what their healthcare situation. Being able to talk to a doctor from home is the ultimate in convenience, this is clear, but what can a doctor do for a patient over the phone?
The doctors from MD247.COM can answer member medical questions right over the phone. MD247.COM doctors can also prescribe medication directly over the phone. This means that a patient can get treatment, or advice directly over the telephone 24 hours a day. The need to visit a doctor's office becomes a thing of the past when a patient can call right from home. There is no longer the need to be exposed to the germs in the doctor's office, there is no more waiting on a list to get in to see a doctor and now everyone has the opportunity to talk to a doctor from the comfort of their sofa.
The next time a program member is feeling under the weather, or has a question about their health MD247.COM suggests they call the MD247.COM Talk to a Doctor Call Line and get expedient professional answers. MD247.COM is the future of healthcare today, and it is about time that a technological advancement in medicine means lower costs for the patient instead of higher. Join the MD247.COM program today.
MD 247 is a twenty-four hour a day affordable concierge telemedicine company based out of Seminole Florida. All members have unlimited telephone access to a nationwide medical support team with just a phone call. MD247.com has a virtual platoon of Registered Nurses and board certified physicians available to members for ALL non-emergency situations. You can learn more about MD247.com by visiting http://www.md247.com.