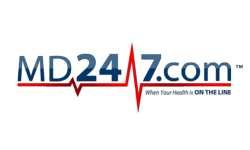 Visit the MD247 Blog
St. Petersburg, FL (PRWEB) March 25, 2012
Twenty-four hour telephonic doctor network MD247 has launched an informational blog, that aims to share information regarding the telemedicine industry and current health and wellness topics which their patients may be affected by.
The new MD247 blog is a repository of resources, MD247 product information and information regarding products promoted by the telemedicine experts at MD247.
MD247 launched the blog in February 2012 to complement the website http://www.md247.com, and to provide ongoing interaction with its large web audience.
The blog is currently co-written by two authors of the MD247 team: the MD247 Founder, and the MD247 Social Media Manager.
The MD247 blog will continue to share informational articles, using many research resources and technical contributors MD247 has at its disposal. In addition, the blog will discuss in-depth the intricacies of telemedicine in the year 2012.
MD 247 is a twenty-four hour a day affordable concierge telemedicine company based out of Seminole Florida. All members have unlimited telephone access to a nationwide medical support team with just a phone call. MD247.com has a virtual platoon of Registered Nurses and board certified physicians available to members for ALL non-emergency situations. You can learn more about MD247.com by visiting http://www.md247.com.