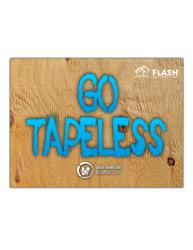 "The only thing worse than no hurricane protection is the wrong hurricane protection, and that is why we are launching Go Tapeless all across America today," said FLASH President and CEO Leslie Chapman-Henderson.
Orlando, FL (PRWEB) March 27, 2012
A survey commissioned by the Federal Alliance for Safe Homes (FLASH®) and conducted online by Harris Interactive during the period of January 25-27, 2012 found that nearly seven out of 10 homeowners still think that windows and glass doors should be taped in preparation for a hurricane. Masking tape, duct tape, window film and specially marketed "hurricane tape" are insufficient and potentially dangerous substitutions for tested and approved hurricane shutters, impact-resistant windows or properly installed temporary, emergency plywood shutters. This is why FLASH is determined to bust the dangerous window taping myth and is encouraging Americans to Go Tapeless this hurricane season as a part of its hurricane preparedness initiative, the Great Hurricane Blowout (Blowout).
Ideal family and home protection follows when all windows and openings (entry doors, garage doors, gable end vents, etc.) are covered with tested and approved impact-resistant coverings or constructed of impact-resistant materials. Even installing plywood shutters can be a reliable temporary option in an emergency. But make no mistake – taping is not adequate to provide hurricane protection.
"Today's marketplace is full of tested and approved methods and products to protect families and homes from hurricanes," said FLASH President and CEO Leslie Chapman-Henderson. "Yet just last year, Hurricane Irene provided stark evidence that too many homeowners are clinging to a belief that masking tape on glass is a good preparedness activity. The only thing worse than no hurricane protection is the wrong hurricane protection, and that is why we are launching Go Tapeless all across America today."
This new element of the Blowout, a first-of-its-kind hurricane preparedness campaign launched by FLASH in 2010 will educate families about the risks of taping up in advance of a storm and provide the necessary resources to help them prepare. By joining the Blowout, families can learn about the best methods to protect their homes and families. They can also pledge to join the ranks of "Tapeless" Americans this hurricane season.
Families can visit greathurricaneblowout.org to learn – before the first storm arrives – how preparedness will allow them to "breathe easy" knowing that they are ready for hurricane season. Presented by FLASH and sponsored by Kohler Power Systems and State Farm®, the Blowout encourages the use of proven hurricane mitigation tools to make homes strong and families safe. Beginning June 1, families can enter to win a Kohler standby home generator. Families can visit the Blowout on Facebook (facebook.com/ghblowout) and Twitter (@ghblowout) for ongoing contests, prizes and up-to-the-moment news.
About the Survey
The survey was conducted online within the United States by Harris Interactive on behalf of FLASH from January 25-27, 2012 among 1,292 adults ages 18 and older. This online survey is not based on a probability sample and therefore no estimate of theoretical sampling error can be calculated. For complete survey methodology, including weighting variables, please contact Trenise Lyons at Trenise(at)flash(dot)org.
About FLASH
Federal Alliance for Safe Homes (FLASH)®, a 501(c)3 nonprofit organization, is the country's leading consumer advocate for strengthening homes and safeguarding families from natural and manmade disasters. FLASH collaborates with more than 100 innovative and diverse partners that share its vision of making America a more disaster-resistant nation including: BASF, Federal Emergency Management Agency, Florida Division of Emergency Management, The Home Depot®, International Code Council®, Kohler Power Systems, National Weather Service, RenaissanceRe, Simpson Strong-Tie®, State Farm®, USAA® and WeatherPredict Consulting Inc. In 2008, FLASH opened the interactive weather experience StormStruck: A Tale of Two Homes® in Lake Buena Vista, FL. Learn more about FLASH and gain access to its free consumer resources by visiting flash.org or calling (877) 221-SAFE (7233). Also, get timely safety tips to ensure that you and your family are always well protected from natural and manmade disasters by subscribing to the FLASH blog – Protect Your Home in a FLASH.
About Kohler Power Systems
Kohler Power Systems is a division of Kohler Co., and provides complete power systems, including generators (residential, industrial, mobile and marine), automatic transfer switches, switchgear, monitoring controls, and accessories for emergency, prime power and energy-management applications. Kohler Power Systems has delivered energy solutions for markets worldwide since 1920. For more information, visit kohlerpower.com.
About State Farm®
State Farm insures more cars and homes than any other insurer in the U.S., is the leading insurer of watercraft, and is also a leading insurer in Canada. Its 17,800 agents and more than 66,000 employees serve 81 million policies and accounts -- more than 79 million auto, fire, life and health policies in the United States and Canada, and nearly 2 million bank accounts. State Farm Mutual Automobile Insurance Company is the parent of the State Farm family of companies. State Farm is ranked No. 34 on the Fortune 500 list of largest companies. For more information, visit statefarm.com.