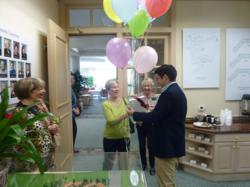 "We thought the idea of giving away iPads would be popular, but we had no idea," said Clint Marsh, sales manager for Morningside.
Fullerton, Calif. (PRWEB) March 27, 2012
Why should GenXers and Millennials have all the fun? Turns out, the "Greatest Generation" also has a love for tablets, smart phones, laptops and other technology.
Late last year, Morningside, the continuing care retirement community in Fullerton, Calif., (http://www.morningsideoffullerton.com) joined the iPad craze with a unique opportunity for prospective residents. Recipients of Morningside's newsletter were entered into a drawing to win a new iPad2, and Judy Counts of Fullerton emerged as the lucky winner.
"We noticed that many Morningside residents are using iPads in our computer lab and in their homes, primarily because they are so lightweight and easy to use," said Clint Marsh, sales manager for Morningside. "We thought the idea of giving away iPads would be popular, but we had no idea."
Marsh's instincts were right. In January, a mailing was sent to prospective residents with a chance to win an iPad, and the response was overwhelming. The names of the first 100 people to respond were entered into a drawing for the iPad. Michael and Estuko Littlejohn of Rolling Hills Estates, Calif., were the ultimate winners from that drawing.
But because the response was so great, Morningside decided to have some fun and hold a "second chance" drawing for the people who responded to the mailing but weren't drawn as part of the first group of 100 people. Prospective residents who came in for a tour were treated to a breakfast where the third and final iPad was given away. Michael Riley of Brea, Calif., took home the new tablet that day.
According to Marsh, the iPad giveaway was a very successful program because more and more seniors are using tablets.
"We have a very strong computer program here, and see a lot of residents teaching other residents how to use these newer computers, so the initial idea came from just observing what our residents were doing," he said.
One resident who has helped hundreds of others over the years with their computer skills is Virginia White. She and her husband, Lloyd, have been residents of Morningside for the past 11 years. Both are computer wizards with Virginia serving as chair of Morningside's Computer Committee for four years, where she conducted two, two-hour workshops for other residents each week. This year alone, Virginia has taught computer tactics and techniques to more than 30 residents.
Virginia, what marketing experts call an "early adapter," purchased her first Mac in 1985 so she could keep up with her family which was spread across the country. Lloyd's computer involvement goes back to 1952 when he first started using computers for work.
Will there be any more iPad giveaways this year? The campaign was such a hit with prospective residents that Morningside has now come up with a new program. According to Marsh, all those who responded to the initial mailing will be eligible to receive a free iPad as a housewarming gift if they move into Morningside this year.
Morningside of Fullerton continuing care retirement community includes 327 independent living residences (including duplex and single-family villas), a large commons building, all the above described amenities, and an adjacent, state-of-the-art health center featuring a 54-unit assisted living residence and a 99-bed skilled nursing center. For more information, please call 800-499-6010, 714/529-2952 or visit http://www.morningsideoffullerton.com.
# # #