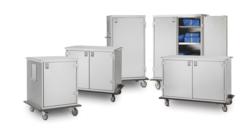 "Our new case carts are the latest example of how we're committed to partnering with customers to continually and quickly advance the way they work."
- Rob Sobie, vice president of healthcare marketing, Metro
Wilkes-Barre, PA (PRWEB) March 26, 2012
Metro, a world leading provider of technology, storage and transport solutions for healthcare facilities, recently announced the introduction of their new line of case cart solutions. Based on customer feedback, the new design maximizes usable space and provides a quiet, efficient solution for handling storage and surgical transport tasks efficiently. Metro will showcase their complete line of open and enclosed case cart solutions at the Association of periOperative Registered Nurses (AORN) 59th Annual Congress March 26 - 28 in New Orleans, Louisiana.
"We understand the challenges that healthcare facilities are facing in the dynamic, fast-paced environment of the surgical suite," said Rob Sobie, vice president of healthcare marketing at Metro. "By offering both open and enclosed case carts, we can accommodate the needs of all types of facilities large and small while delivering the storage capacity, adjustability and durability that the surgical staff demands. Our new case carts are the latest example of how we're committed to partnering with customers to continually and quickly advance the way they work."
Metro Enclosed Case Carts can be used wherever contents must be protected, including free-standing ambulatory care centers, surgicenters, and hospital based or out-patient surgeries. Metro Enclosed Case Carts are engineered to drive efficiency in surgical case transport by providing:

The most combined storage capacities in their five sizes than any other cart provider in the marketplace.
No exposed shelf wires that may compromise packs leading to waste or reprocessing.
No water traps that may compromise sterility or extend processing time and slow case turns.
The quietest rolling case cart that helps minimize noise to raise patient and staff satisfaction.
Easy shelf adjustability on 2" (51mm) increments to quickly reconfigure to case requirements.
In addition to their new case carts, Metro's booth (#5427) is showcasing solutions for nearly every department in healthcare, from enclosed storage options with antimicrobial protection and specialized procedure carts to point-of-care computing solutions and automated medication & supply dispensing.
For more information on Metro and its diverse breadth of healthcare products, visit http://www.metro.com/aorn.
About InterMetro
For more than 80 years, InterMetro has been the world's leading manufacturer of technology, storage and transport solutions in healthcare, food service, commercial and consumer products. Committed to understanding the needs of customers and channel partners, Metro provides complete solutions that optimize space, improve workflow and ensure overall safety. InterMetro is a business of Emerson. For more information, visit http://www.metro.com.
About Emerson
Emerson (NYSE: EMR), based in St. Louis, Missouri (USA), is a global leader in bringing technology and engineering together to provide innovative solutions for customers in industrial, commercial, and consumer markets through its network power, process management, industrial automation, climate technologies, and tools and storage businesses. Sales in fiscal 2011 were $24.2 billion. For more information, visit http://www.emerson.com.
###