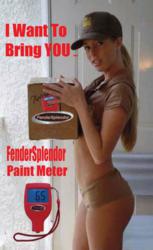 Orange Beach, AL (PRWEB) March 26, 2012
As FenderSplendor® Paint Meters set yet another sales record, President Allen Willey announced the addition on a second FenderSplendor website, specifically directed at Auto Auctions and their Customers. AutoAuctionPaintMeter.com features the FenderSplendor FS 688 and the FS 488.
"We wanted to recognize the over 100 Auto Auctions that use our gauges to create a higher level of credibility among buyers and sellers" With more and more Auction sales being transacted over the Internet it is critical the the seller offer a precise description. "A FenderSplendor Paint Meter eliminates any doubt" said President Allen Willey. The new site, AutoAuctionPaintMeter.com, creates a recognizable place for Auctions and Dealers to buy FenderSplendor Paint Meters.
Willey said that in addition to the new web site his team also created a special blog for Auctions. The blog located at AutoAuctionPaintmeter.com/blog features Auction related news, Girls from Auto Show around the World, and other helpful financial tips. You can subscribe to the blog Free of charge.
In a recent interview FenderSplendor President Allen Willey commented on International growth. Willey said; "we are both shocked and pleased at the sales we are generating from around the World. We now have Distributors in The UAE, Saudi Arabia, and in Russia. Willey is currently in negotiations with potential distributors throughout Western Europe.
Willey concluded the interview by announcing that the original FenderSplendor.com website had also undergone a 100% upgrade. With the recent rebound in Auto sales Willey said he expects to double sales this year and sell close to 5,000 FenderSplendor Paint Meters.