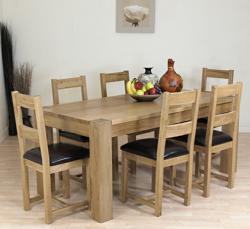 We think consumers will really like the new range of tables and chairs we have on offer. Not only because they look great, but because our prices won't break the bank
(PRWEB UK) 25 March 2012
OakFurnitureKing.co.uk today announced the launch of a brand new range of Oak Dining Tables. With the launch of the new OakFurnitureKing.co.uk website, the new product range is designed to provide customers with very affordable products without compromising on quality.
Managing Director, Khalled Ullah stated "We think consumers will really like the new range of tables and chairs we have on offer. Not only because they look great, but because our prices won't break the bank".
OakFurnitureKing.co.uk new dining table range is made from 100% Solid Oak, the company are keen to inform consumers that some retailers sell furniture made from MDF, veneers and chipboards. When competition in the market is becoming tougher, it is important for consumers to be aware of the quality products that are available from this new online retailer.
With the launch of the new ecommerce website, Oak Furniture King's Digital Marketing Consultant also announced "The new range of products combined with the speed of the site and intuitive functionality provides customers with one of the best online shopping experiences available online. The development process will be ongoing and we are keen to use social media to communicate with our customers and be proactive with any feedback we receive regarding the website and communication, ultimately it's our goal to give the customers what they want as quickly and as easy as possible ".
OakFurnitureKing.co.uk continue to push the boundaries of ecommerce performance and quality products, with only a few weeks until the new website is launched Oak Furniture King continue to announce new product lines via PR sites such as PR Web and Social Networking sites such as Twitter.
Oak Furniture King are a UK online retailer specialising in Oak Furniture for all elements of the home.
@LoveOakKing are making product and news announcements exclusively on Twitter this week. The company has already issued its first tweet informing people that there are only 30 Days until the launch of the ecommerce website.