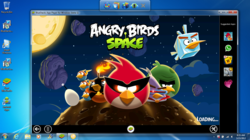 A billion PCs is a huge potential market for any app developer.
Campbell, CA (PRWEB) March 27, 2012
BlueStacks announced the availability of the beta-1 version of its App Player for PC today. The software supports Windows XP, Vista and Windows 7, and enables Android apps to run in windowed or fullscreen mode on PC.
The beta-1 version incorporates the company's patent-pending Layercake technology. Layercake enables Android apps to run seamlessly on x86-based PCs. This includes apps written for the ARM processor like Angry Birds Space and Fruit Ninja, as well as apps that use hardware graphics acceleration. These latter capabilities were not part of last year's alpha test version. Apps designed for high-end tablets that use graphics-intensive engines such as Unity can also run on the new platform.
"Layercake is a disruptive technology that enables PC manufacturers to bring the best of the Android ecosystem to their customers. It also leverages the advanced graphics capabilities of AMD APU and GPU platforms," said Manju Hegde, corporate vice president, Content, Applications and Solutions at AMD (NYSE: AMD). We are excited to work with BlueStacks to make the emerging Android mobile apps market part of the broader computing arena, especially given that the beta-1 version has been localized for 10 different countries."
The alpha test of BlueStacks ran at the end of 2011 and included a more limited app selection. In three months it attracted over a million users in more than 100 countries such as the US, Korea, Brazil, Germany and China. Over 4.5 Million apps were opened. Especially popular were apps like Kakao Talk in Korea, Wordfeud in Germany and WhatsApp in the US. "You know, first there was Angry Birds on Chrome which was a big deal, then recently Steve Ballmer stood up at CES and announced that Cut the Rope had been ported to IE9. With BlueStacks, it's 450,000 apps coming to Windows at once," said BlueStacks CEO, Rosen Sharma.
The developers behind top apps like Fruit Ninja, SliceIt!, Barnes & Noble's Nook, Townsmen, Evernote, Defender and StumbleUpon have partnered with BlueStacks to have their apps pre-loaded in the beta-1 version. "A Billion PCs is a huge potential market for any app developer. There is the potential to make good money from the additional discovery and usage," said Markus Kassulke, CEO of popular developer HandyGames. "The best part is, we don't have to do any work. Our apps run without any modification or porting."
About BlueStacks
BlueStacks is a software company that enables Android apps to run on PCs, Ultrabooks and tablets. It is privately held and headquartered in Silicon Valley with global offices in India, Taiwan and Japan. The company launched in 2009 and is privately funded. Investors include Andreessen-Horowitz, Radar Partners, Ignition Partners, Helion Ventures and chipmaker AMD. The company has raised 14 million in funding so far. For more information visit BlueStacks.com, or join their over 250,000 Facebook fans at http://Facebook.com/bluestacksinc. Follow along on Twitter at @BlueStacksinc
Contact:
John Gargiulo
BlueStacks
VP, Marketing and Business Development
Email: John (at) Bluestacks (dot) com