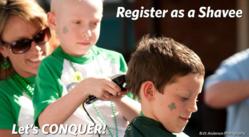 (PRWEB) March 28, 2012
Bald heads, smiles, laughter and tears – words simply can't describe the Serious Fun that's had at a St. Baldrick's event
O'Toole's Irish Pub will be the setting for this year's St. Baldrick's Event in New Haven. The event is being organized by New Haven Firefighter Jason Cusack, whose firehouse is credited with sponsoring this event for the past 8 years.
Beginning at 4pm and going into the evening, volunteers will be shaving heads in solidarity with kids fighting cancer. Dr. Jeffrey Gold has volunteered to have his head shaved to raise money for the charity.
The St. Baldrick's Foundation is a childhood cancer charity funding the most promising research to help find cures for kids with cancer. Visit http://www.StBaldricks.org/.
St. Baldrick's has committed more than $78.8 million in research grants since 2005 and the Foundation now funds more in childhood cancer research grants than any organization except the U.S. government.