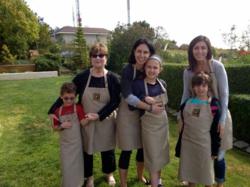 "I loved being a mini chef! Yummy food and amazing desserts!"
Molly & Jake
San DIego, CA (PRWEB) March 27, 2012
When Robin and Michael Storfer visited Lajollacooks4u last August, they were so impressed that Robin returned recently from Toronto, Canada with children and her mother, Arlene Glube in tow.
Matthew (6 years) Jake (9 years) and their friend, Molly, (10 years) had a Spring break to remember. Jodi Abel, founder and chef of Lajollacooks4u, said that the children felt immediately at home. "There's something about children and the kitchen; if they don't immediately find the food, then they can get very creative in making something that they can claim as theirs," Abel said.
The children prepared a sophisticated Latin-themed menu with home-made tortillas, quesadillas, grilled fish tacos and cilantro rice. Of course there were also the chocolate candy clusters filled with ingredients of their choice - Gummi bears, marshmallows and M&Ms. Bubbi Arlene helped the children and was so excited to share this experience with her daughter and grandchildren! "This was definitely a most memorable experience!" said Arlene
"Cooking definitely bonds families and people together, " Abel said who added that she welcomes groups from all over the world. "It's amazing how cooking brings everyone together; whether it's families, friends or corporations," Abel said.
Robin's Storfer said that good food is always appreciated by everyone. "The children beamed with pride when they completed their creations," Robin added that she was so thrilled with the hands-on cooking experience that she would like to bring her boys back in August.
Lajollacooks4u, founded in 2008, provides an ideal activity for couples, corporate team building and any foodie looking for a cooking and culinary experience in an ideal setting overlooking the Pacific Ocean. Lajollacooks4u also conducts unique Foodie & Farmer Market Tours of San Diego. Based in La Jolla, a suburb of San Diego, CA, Lajollacooks4u has enjoyed record growth since its inception and has been ranked the number one attraction in La Jolla on the world's largest travel review site, Trip Advisor. For more information, contact Jodi Abel at jodi(at)lajollacooks4u(dot)com or phone 1-858-752-4980
-30-