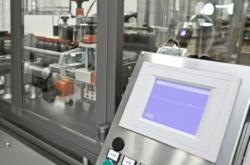 This is the only Electronic Batch Record system that is designed exclusively for GMP manufacturing and is 21 CFR Part 11 compliant.
Cary, NC (PRWEB) March 27, 2012
InstantGMP™ was recently featured in a review article at "Electronic Batch Record Reviews" which is a web site dedicated to describing electronic batch record systems for GMP manufacturing. An article on Electronic Batch Record Return on Investment asked the question if is there a system that is low cost, highly available and reliable enough to win over the skeptics such as quality assurance managers who are reluctant to trust something new electronic batch records when what they have is working paper based manufacturing. The article described InstantGMP™ as addressing all the issues with current systems.
The review article made the point that InstantGMP™ comes with a full set of manufacturing SOPs. These can become part of any existing quality system and be adopted for use in parallel with existing paper based manufacturing systems. The article also pointed out that companies that currently use paper based quality systems who adopt InstantGMP™ can reduce their costs, reduce the need for additional overhead staff during periods of expansion and can improve quality compliance. All this can be achieved without disrupting productivity during the installation and training phases.
About InstantGMP™
InstantGMP™ is a web-based Part 11 compliant Electronic Batch Record system that streamlines the entire process of GMP manufacturing and compliance. It simplifies the documentation and approval procedures to reduce production times. It has hard coded quality assurance procedures built in to prevent errors and to maximize quality and to assure GMP compliance. It can be accessed remotely from any location and comes with a complete set of manufacturing SOPs. Any organization that require GMP compliance in their manufacturing, such as pharmaceutical, OTC, generic and neutraceutical companies can get better productivity, lower costs and higher quality with InstantGMP™ than can be achieved with paper based systems.