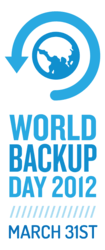 As we live an increasingly digital life, the need for regular data backups has never been more necessary.
Washington, DC (PRWEB) March 26, 2012
World Backup Day is proud to announce its giveaway and official sponsors for 2012. Last year, people generated over 1.8 zettabytes of data. That's nearly 57 billion iPads! As we live an increasingly digital life, the need for regular data backups has never been more necessary.
March 31st has been declared World Backup Day to raise awareness about backing up our data regularly.
WORLD BACKUP DAY SWEEPSTAKES
Consumers can enter the World Backup Day Sweepstakes for the chance to win hard drives, online cloud storage, and more. From March 26th – 31st, World Backup Day will give away awesome prizes on its Facebook page to get people prepared for World Backup Day. To enter, visit http://www.facebook.com/WorldBackupDay
WORLD BACKUP DAY EXCLUSIVE DEALS
Exclusive deals on backup related products and services are featured on http://www.worldbackupday.com
Official Sponsors of World Backup Day — March 31st
PRESENTING SPONSOR:
Backblaze
Founded by a team of serial entrepreneurs with security, scalability, usability backgrounds and located in the heart of Silicon Valley, Backblaze's mission is to ensure that all computer data is backed up. Backblaze was selected as a winner of the AlwaysOn Global Top 250 private companies for game-changing technology and market value. Backblaze provides a free trial and automatically backs up all data for just $5 per month. Visit us at http://www.backblaze.com
ADDITIONAL SPONSORS:
LaCie
With operations in the Americas, Europe and Asia, LaCie is the leading manufacturer of storage devices for PC, Apple, and Linux. LaCie has differentiated itself through sleek design and remarkable technical performance. Visit us at http://www.lacie.com.
MiMedia
MiMedia brings consumers a totally new approach to online backup—a way to protect, access, enjoy and share their digital lives all in one place. Beyond online backup, MiMedia also provides instant on demand access to files from anywhere. The company is privately held and based just outside of New York. Visit us at http://www.MiMedia.com
Western Digital
WD, a storage industry pioneer and long-time leader, provides products and services for people and organizations that collect, manage and use digital information. The company designs and produces reliable, high-performance hard drives and solid state drives that keep users' data accessible and secure from loss. Its storage technologies serve a wide range of host applications including client and enterprise computing, embedded systems and consumer electronics, as well as its own storage systems. Visit us at http://www.wdc.com
Idealstor
Established in 2002, Idealstor is the leading manufacturer of ejectable Disk to Disk storage solutions. Idealstor offers a Disk to Disk backup platform that, for the first time, outperforms tape drives and libraries in performance, reliability, scalability, ease of use and functionality. We take away the headaches, pain and expenses normally associated with tape based backup systems and offer you peace of mind. Visit us at http://www.idealstor.com
ABOUT WORLD BACKUP DAY
World Backup Day was chosen to be the day before April 1st (April Fools) in order to drive the message that one should backup all those pictures, spreadsheets, love letters, cat pictures, and important financial documents before it's too late. World Backup Day is an independent initiative that began its inaugural celebration in 2011 by—as most good things on the internet—a few concerned users on reddit.com. It was a hit in the tech industry with virtually all tech news sources reporting on it. For 2012, World Backup Day has partnered with many media partners to promote the importance of data backups.
###