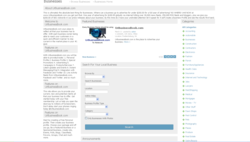 UrBusinessBook.com the newest innovation since the phone book.
Fredericksburg, VA (PRWEB) March 26, 2012
Looking over this new consumer search platform at UrBusinessBook.com, it has the feel of the phone book without the hassle of flipping through page after page to find local businesses. Need to find a local business in a specific area? Wth the integration of Google maps, locating businesses has never been easier.
With consumers moving to the social media world to interact with family, friends and businesses the phone book has become obsolete to most. Many consumers utilize computers, laptops, cell phones and iPads to find a local business. At UrBusinessBook.com the incorporation of all these functions has made UrBusinessBook.com the best innovation since the phone book.
With UrBusinessBook.com's business platform it allows businesses to display their company directly in front of consumers. The new consumers search platform gets consumers right in front of local businesses.
New business arrivals to UrBusinessBook.com for the week of 3/19/2012
Hallmark Insurance Group:
An independent agency licensed to do business in VA, MD, DC, WV, DE and WV, providing individual or personal lines products like personal auto, homeowners, boat and motorcycle, as well as individual life and health insurance.
Commercial or business insurance department is experienced in writing general liability, property, inland marine, workers compensation, Umbrella etc. No matter what kind of business or what size they can help.
http://urbusinessbook.com/businessitem/HallmarkInsurance
Re/Max Preferred
Sherri Mercurio represents RE/MAX Preferred of North Providence, RI. A dedicated fulltime REALTOR® licensed in RI and MA. Whether Buying or Selling, The focus is always on providing a superior RE/MAX experience where customers are #1.
http://urbusinessbook.com/businessitem/sherrimercurio
Meineke Car Care Center
Located at 11770 Holly Auto Center Lane Waldorf, MD 20601
With over 30 years in the automotive business Meineke Car Care Center guarantees satisfaction. Quality workmanship, a friendly professional staff and quality parts are the reasons why customers rely on Meineke to protect their cars year after year.
http://urbusinessbook.com/businessitem/MeinekeCarCareCenter169
Watson Real Estate Services, Inc
Fully licensed and insured appraiser.
FHA APPROVED
Specializing in appraisals for mortgages, estates, divorces, bankrupties, refinances, foreclosures, short sales and pre-sale values. Trusted and approved by First Home Mortgage, Countrywide Mortgage, National City Mortgage, Suburban Federal Savings Bank, Allied Home Mortgage.
http://urbusinessbook.com/businessitem/WRES
George Mason Mortgage,LLC
Loan Specialist for Residential Mortgages with 10 years in the mortgage business and many programs such as: FHA, VA, CONV, Rural Housing, FHLB, VHDA and New Construction.
Leisa Brown, Short Sale Specialist, is a name that can be trusted in the mortgage business. Contact today to discuss the best program that fits the your needs.
http://urbusinessbook.com/businessitem/GeorgeMasonMortgageLLC